by Stephen Dietrich, Managing Editor
The mainstream media is dying — and they're really, really angry about it.
American consumers are finding the old mainstream media increasingly untrustworthy, and are ditching the ancient business model in droves.
Should there be any doubt left in your mind that the mainstream media is bought and paid for, look no further than this —
While the corporate media was publishing unfounded and slanderous articles attacking conservative websites as "fake news", they conveniently ignored the fact that former Secretary of State Hillary Clinton's campaign was caught actively feeding "fake news" stories to Americans.
That's according to an email from former Clinton campaign manager John Podesta, revealed by WikiLeaks, in which a top executive of the Clinton Global Initiative brags about directing Comedy Central's "fake news" satire show, "The Colbert Report", to run prepackaged stories.
See for yourself —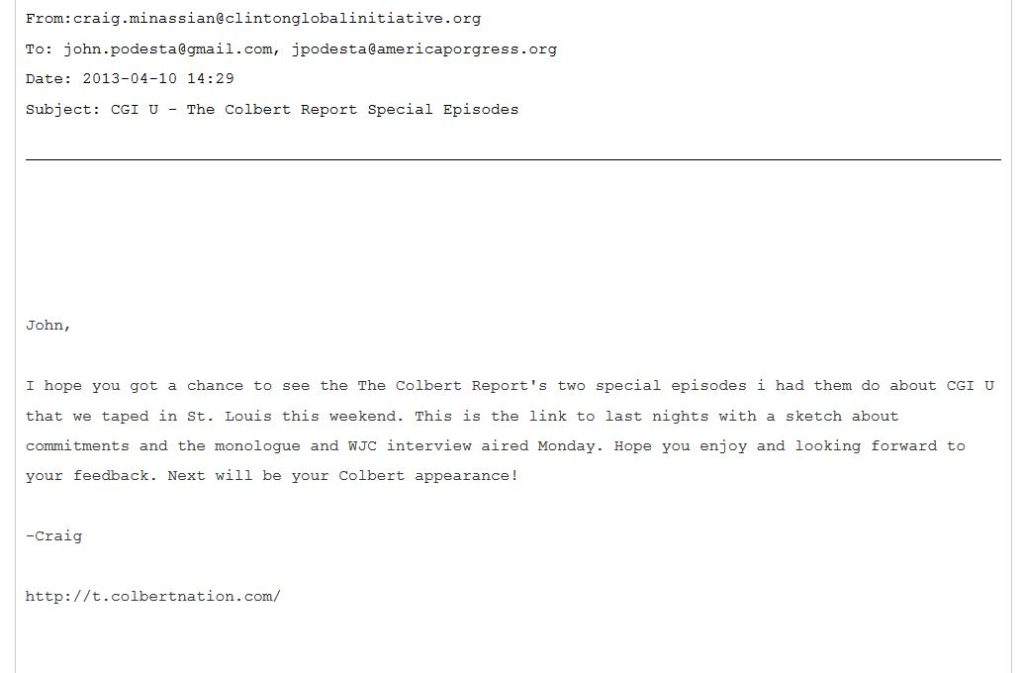 Here's why this is dangerous: In 2014, 1-in-10 American adults admitted they get their news primarily from these liberal "fake news" sources, according to Pew Research.
In fact, 11% of all American adults admitted in 2015 they trust "The Colbert Report" and her sister show, "The Daily Show," the most among any news source.
And among young adults, it's even worse — almost three-in-ten say that they trusted these two "fake news" satire programs as the most reliable source of political news.
And the Clinton campaign was just caught admitting they manipulate these shows behind the scenes.
So, where's the outrage about "fake news" being fed entire stories by the Clinton campaign among the mainstream media?
There is none.
The silence is deafening.
And that's the kind of bias pushing more and more readers to leave.
This isn't an isolated incident, of course. During the election, Democrat insiders were caught writing the questions for interviews and doing newspaper research for newspapers like The Washington Post. Clinton had CNN insiders secretly working for her campaign to help fabricate debates and spin television appearances, while so-called "fact checkers" were actively fabricating stories.
Simultaneously, during the lead up to the election a "top-down" order was issued by the Clinton campaign to "destroy Trump" at three major networks that, according to Fox News' Bill O'Reilly.
The major news networks smartly responded, and were caught multiple times lying about Trump supporters – sometimes going as far as to mute their mics. Meanwhile, magazines slandered Trump's wife, Melania Trump and lied about the president-elect, while celebrities hounded his 10-year-old son.
These weren't just biased suggestions, either. In at least one instance that we have undeniable proof of, the Clinton campaign scripted in painstaking detail the questions, responses, and timeline of events at a television interview.
Despite their protests, the liberal media can't avoid the inevitable.
Because of their bias, these huge corporate conglomerate media outlets are dying.
Even the post-election bump in subscriptions to newspapers like The Washington Post and The New York Times won't save them — the traditional model has been shedding readers for decades.
After years of conservatives loudly complaining about the shameful liberal media bias, they have started fighting back. Readers like you are heading to places like The Horn News, where our opinions aren't hidden, but instead are proudly on display.
Welcome.
And to the bias, untrustworthy media: Good riddance.
— Stephen Dietrich is the Managing Editor of The Horn News