Throughout the 2016 election, Republican presidential candidate Donald Trump has been blasted repeatedly in the media. Journalists and TV talking heads have called Trump all sorts of nasty names, and for months have promised that Trump will lose in November.
But with less than 60 days to go until the general election, it appears Trump has been playing them from the start.
As the pieces begin sliding into place, recent data shows that Trump has been playing an elegant game of chess while political analysts were trying to play checkers.
According to a recent UPI poll, Trump has opened a three point lead over his Democratic presidential rival Hillary Clinton in the popular vote.
But what Trump and his team have focused on isn't the popularity contest. It's the all-important 270 votes needed to win the Electoral College.
And while Clinton falters, Trump is nabbing just about all the pieces he needs.
The Horn News recently reported on the "Trump election surprise" — that crucial union voters in states like Ohio and Virginia were defying their Democratic loyalties in staggering numbers to jump on the Trump Train. But that's just the beginning. New data released by The Associated Press has uncovered more — Republicans have gained ground on Democrats in registering voters in crucial battleground states across the country
"Encouraging news for Donald Trump eight weeks before Election Day," AP writes. "Republicans added hundreds of thousands of voters to the rolls since 2012 in states including Florida and Arizona, and narrowed the gap in North Carolina, according to data compiled by The Associated Press. In Iowa, Republicans prevented Democrats from surpassing them, aided by a court ruling upholding a ban on voting by ex-felons, who often register as Democrats."
Recent polls offer evidence that this trend is widening in these critical electoral college flashpoints.
In Virginia and Nevada, Trump has rapidly closed the gap with Clinton and is now locked in a virtual tie, according to an Emerson College poll and an NBC News poll. With Trump's recent surge, and Clinton's health scandal dragging down her polling numbers, it's not hard to predict those will likely tip in the GOP's favor soon.
That's not all. In North Carolina, Suffolk University reports Trump is up 3 points.
In Florida, JMC Analytics' most recent poll has Trump up 4 points.
And in Ohio, a Bloomberg poll shows Trump enjoys a huge 5 point advantage.
What does that all mean for the election? Take a look at the playing table for yourself —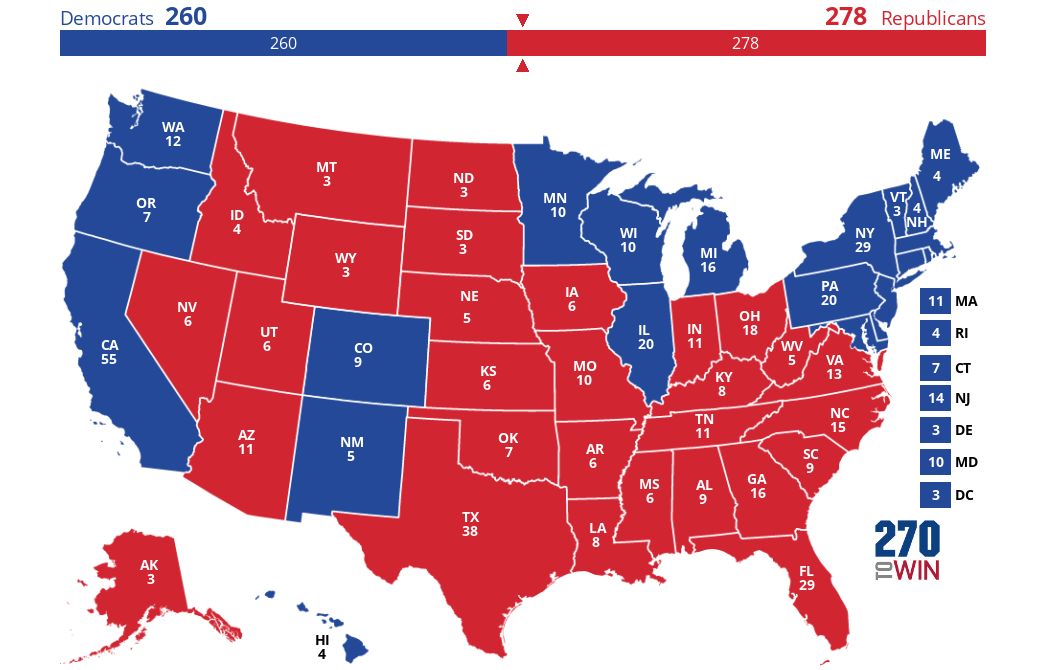 Checkmate.
— The Horn editorial team