President Barack Obama hasn't just been trouble for America – his disastrous policies have practically ruined his own party.
That was the message that Wisconsin Governor and former presidential candidate Scott Walker delivered to a packed Conservative Political Action Conference (CPAC) just outside Washington, DC today.
The Horn News will be providing live coverage from CPAC all week.
Calling Obama an "incredible recruiter" for conservative causes, Walker pointed out that there were 29 Democratic governors when Obama took office – and now there are only 18.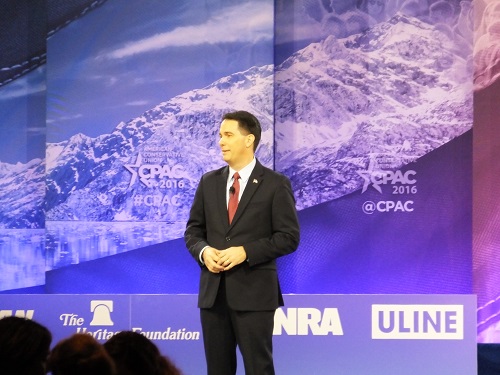 "We even have a chance to elect a Republican governor in the home state of Bernie Sanders," Walker said about GOP hopes that the party may be able to take over the governor's office in Vermont this November.
Democrats have suffered similar setbacks in state legislatures under Obama. While Democrats controlled 27 legislatures when Obama took office in 2009, the number has dropped dramatically to 11.
That's been good news for lots of states that are finally getting the opportunity to see conservative policies in action – and are liking them.
"Americans are looking for leadership to counter the failed policies of Barack Obama," he said.
Walker pointed out that in his state of Wisconsin, a traditional blue state, he's been able to lower unemployment through right-to-work policies and has been able to defund Planned Parenthood.
In South Carolina, Gov. Nikki Haley's economic policies have helped move 30,000 people from the welfare rolls to employment.
And in Tennessee, Governor Bill Haslam has cut taxes twice as much in the past five years as in the previous eight.
American citizens nationwide are learning a key difference between liberal and conservative principles, Walker claims.
"They believe in the government," he said. "We believe in the individual. We believe in you."
-The Horn editorial staff