by Stephen Dietrich
The liberal bias of the mainstream media isn't a new complaint from Republicans. For decades, GOP voters and Republican lawmakers alike have railed against the slanted coverage given to their issues by journalists.
I can remember my grandfather complaining about the liberal media in the late 1980s, when I was just a young pup.
Since then, the mistreatment of conservatives by the media conglomerates has gotten worse and worse – and Republican presidential candidate Donald Trump and his supporters are by far the biggest target.
It has gotten historically bad out there. Just look at some of these examples:
The chairman of NBC Entertainment stated publicly, "[Trump's] actually corrosive and toxic because his 'mind' is so demented; and his effect will unfortunately linger long after he's been told to get off the stage."
It's gotten so out of control, they're not even pretending anymore.
Take a look at the lead story headline on CNN for Tuesday, August 23rd.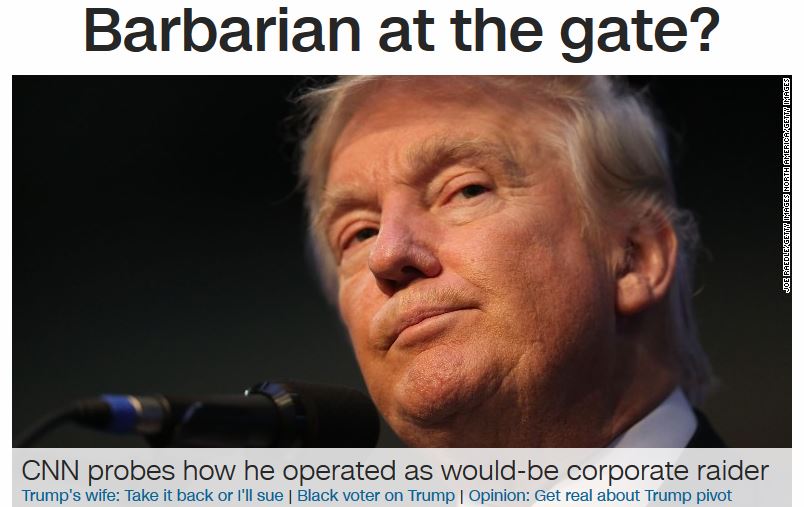 Give me a break.
In fact, some members of the media are acknowledging they INTEND to misreport the facts.
In 2014, CNN's Chris Cuomo confessed on air that he and others in the mainstream media were so biased for Democratic presidential candidate Hillary Clinton, they were rolling out the red carpet and cheer on her campaign for the White House. No, really, he said this on air while his co-host smiled and agreed.
"We couldn't help her any more than we have — she's got just a free ride so far from the media," Cuomo said. "We're the biggest ones promoting her campaign, so [Clinton entering the presidential race] had better happen."
Even more shameful? Cuomo is not alone.
Recently, a member of The New York Times editorial staff confessed that he and his colleagues were proudly biased against the GOP presidential candidate – and then turned around and blamed Trump and his supporters for it.
The wonderful, trusted Gray Lady has become a hag, drunk on power and eager to abuse anyone who disagrees with her.
It leads one to wonder — can we have a fair election, if the media is so staunchly against Trump and his supporters?
The short answer: No.
It's not going to be fair, because there's a narrative that has been established.
So what do we do? We can't demand the truth from the liberal media, because they won't give it to us.
That's the straight rub — nothing can be done to stop them. The media is beyond control… and no, we can never go back.
But there's something that can be done to turn the tables. It's simple, but it will be extremely effective.
We can hit the mainstream media right where it hurts — in their wallets.
Their bloated production costs and big penthouse suites and huge paycheck are dependent on our eyeballs.
If we simply look away, they'll lose.
If we want real change in the media, it's time we unglued ourselves from their narrative. It's time we moved on.
Here at The Horn News, we're not beholden to any media conglomerate. We're truly and honestly independent. We speak our mind, and we don't care who hears it.
Straight talk, without fear — and most importantly, without a boss upstairs hammering his liberal bias into us so our message is well received by the advertisers signing his fat paychecks.
We — and conservatives like us — are the future. We hope you join us.
— Stephen Dietrich is the Managing Editor of The Horn News