Encouragement poured in from across the nation for a 14-year-old Muslim boy whose homemade electronic clock led to his suspension from school, with President Barack Obama, Facebook founder Mark Zuckerberg, and a NASA scientist among those offering support.
As word spread that Ahmed Mohamed had been placed in handcuffs after coming to class with the clock that officials at his suburban Dallas school thought resembled a bomb, the teen became a star on social media. Many took to the internet to criticize police of overreacting because of the boy's religion.
Officials say the boy's religion was not a factor.
Ahmed's father, Mohamed Elhassan Mohamed, a Sudanese immigrant, said at a press conference in front of his family's home that he was moved by the support for his son. He said Ahmed is an electronics whiz who repairs the family's clocks and phones.
"I am grateful to the United States of America," he said, attributing the widespread support to "something that was touching the heart for everybody."
Ahmed was pulled from class Monday and taken to a detention center after showing the digital clock to teachers at his school in Irving.
Irving Police Chief Larry Boyd said the clock looked "suspicious in nature," but said there was no evidence the boy meant to cause alarm at school. Boyd considers the case closed.
He said the officials reaction to the clock "would have been the same regardless" of Ahmed's religion.
Take a look at the home-made clock and decide for yourself –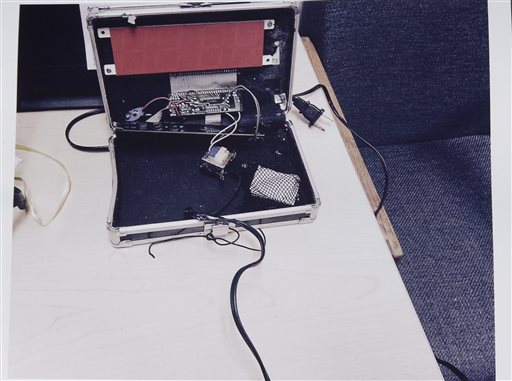 The Associated Press contributed to this story