By Michael Lewitt
Editor, Sure Money
Money Map Press
"Every night when I get home
The monkey's on the table,
Take a stick and knock it off,
Pop goes the weasel!"
-English children's nursery rhyme
"You can call us wrong, but don't call us weasels." -FBI Director James Comey to Congress
Dear Sure Money Investor,
FBI Director James Comey threw what may prove to be a hand grenade into the 2016 presidential election on Friday with a letter informing Congress that he is reopening the investigation into Hillary Clinton's use of a private email server.  Weasels aside, the resulting scandal may very well paralyze a future Clinton presidency.
And the consequences for the markets will be huge.
Here's what to watch…
Every New Leak Is Bad News for The Markets
The electoral map still favors a Clinton victory but the gap between her and Donald Trump is closing, setting the table for a cliff-hanger election whose result could rock markets.   But if Mrs. Clinton manages to fight through the latest mess, maintain her lead and prevail, she will enter office highly compromised and without a mandate.
Even worse, new disclosures regarding conflicts of interest in the handling of the investigation into her emails may well lead to a genuine constitutional crisis. Mrs. Clinton's media and other supporters are doing her, themselves and this country no favor by denying the reality of the crisis that is looming in the horizon.  A crippled presidency is not only bad for the country but bad for financial markets and investors should take heed of what is happening right in front of their lyin' eyes.
Stocks were enjoying a reasonably happy day on Friday (other than healthcare stocks, which were selling off on McKesson's lousy earnings and commentary that future drug price hikes are going to be much tougher to come by) until Mr. Comey ruined the fun.  Markets closed down on the day and ended the week flat.  The Dow Jones Industrial Average gained 0.09% to close at 18161.19 while the S&P 500 lost 0.69% to 2126.41.  The normally ebullient Nasdaq Composite Index dropped 1.28% to 5190.10 on the back of earnings disappointments at Amazon.com, Inc. (AMZN) and Apple, Inc. (AAPL). Investors will be holding their breath until November 8 while reacting to every new leak that may affect the election outcome (and their money).
---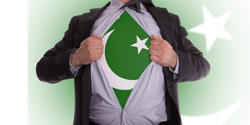 Sponsored: Americans need to know the truth about this Clinton Foundation donor…
As a former U.S. Intelligence Officer, I believe every American needs to know the truth about one of the Clinton Foundation's biggest donors. Now, I can't reveal everything here – this story is far too big for that. What I can tell you is their hidden agenda is creating a unique opportunity for anyone to turn a very small stake into $109,845 or more beginning at 9:30 a.m. when the markets open tomorrow. The full details are here.
---
Third quarter GDP clocked in at a strong 2.9% (annualized) last week, slightly higher than the 2.6% expected.   But before anybody gets too excited, this only brought the four-quarter average run rate to a measly 1.5% and the third quarter was saved by a big pop in exports. The bottom line on the US economy remains that 8 years of over-regulation and over-borrowing are suffocating growth.  And despite what politicians say, you can't tax, borrow and regulate a country into greatness.
Bonds continue to give up ground with the yield on the benchmark 10-year Treasury rising 10 basis points on the week to 1.85%, its highest level in months. Consensus is gathering that the Fed will raise rates by 25 basis points in December but the entire curve is rising – two year yields hit 0.89% last week, their highest level since June. Inflation expectations are also rising. Five and ten-year inflation breakevens are trading at their highest levels since July 2015.  Corporate earnings have benefitted from years of record low interest rates; that party may be ending, in which case it will produce another headwind to already difficult earnings seas.Short investors, though, may see a few unexpected windfalls between now and then….
Two "Short List" Stocks To Watch As The Scandals Keep Swirling
Tesla Motors, Inc. (TSLA) surprised investors by reporting a third quarter profit last week but a peek under the hood shows that the company is headed for a demolition derby.  While its cash only declined by about $150 million to $3.1 billion, the company delayed paying its bills and saw its accounts payable by a huge $600 million. Elon Musk may think he is very clever in manipulating Tesla's numbers into a phony profit, but the company would have lost money had it paid its bills on time.  Furthermore, it is about to merge with Solar City (SCTY) if investors are corrupt or stupid enough to approve the pending deal, loading Tesla will hundreds of millions of dollars of additional losses and capital needs.  The company will be coming back to the markets for more capital most likely in the form of a combination of debt (convertible bonds) and stock.  This will create significant dilution for already overvalued shares and the offerings should be avoided by any investor who doesn't want to lose his shirt.
Amazon.com, Inc. (AMZN) surprised markets (and the analysts calling for the stock to reach $1,000/share) by missing earnings expectations last week. Investors need to remember that AMZN is largely a distribution company, which means that it has thin margins. Last quarter, it spent nearly as much money as it took in, which is remarkable when you think that it had revenues of roughly $35 billion.  It is no mean feat to spend $35 billion in a single quarter, yet that is how much AMZN spent.  No doubt investors will continue to give the company the benefit of the doubt and grant the stock a P/E multiple of hundreds of times, but the 5% plunge in the stock after earnings were announced shows how vulnerable the stock is to a return to sanity in the markets.
If you recall, I've had this stock on my short list for quite some time. I would keep an eye on AMZN if I were you.
Sincerely,
Michael
Disclaimer: © 2016 Money Morning and Money Map Press. All Rights Reserved. Protected by copyright of the United States and international treaties. Any reproduction, copying, or redistribution (electronic or otherwise, including the world wide web), of content from this webpage, in whole or in part, is strictly prohibited without the express written permission of Money Morning. 16 W. Madison St. Baltimore, MD, 21201.