The race for the Democratic presidential nomination is heating up and following Wednesday's Democratic debate, supporters of Vermont Sen. Bernie Sanders are crying foul.
Several sources are reporting a claim by Sanders campaign manager Jeff Weaver that former Secretary of State Hillary Clinton cheated during the debate. And that's not all.
Supporters of the Vermont senator are also suggesting that Clinton may have rigged the debate in her favor, showing data that the CNN moderators were interrupting and cutting off Sanders far more quickly — and more often — than Clinton, while allowing her far more time to talk.
On Thursday, Ed Henry of Fox News reported on Twitter that, "Sanders aide Jeff Weaver told me photo circulating of @HillaryClinton w/staff during debate break violates DNC rules."
Henry then tweeted,
Candidates are not supposed to confer w staff during commercial breaks — Clinton aide Jen Palmieri told me she wasn't aware of pic

— Ed Henry (@edhenry) March 10, 2016
Quickly following this rule-breaking accusation (which isn't the first for Clinton), Sanders supporters took to social media to allege that the moderators of the debate were heavily biased towards Clinton, essentially guaranteeing she'd have a strong performance.
Clinton was reportedly giving 32 percent more time to speak, but Sanders was still interrupted by moderators 150 percent more. 
Sanders supporters compiled the information and shared a data graph on the alleged pro-Clinton bias on Reddit.com: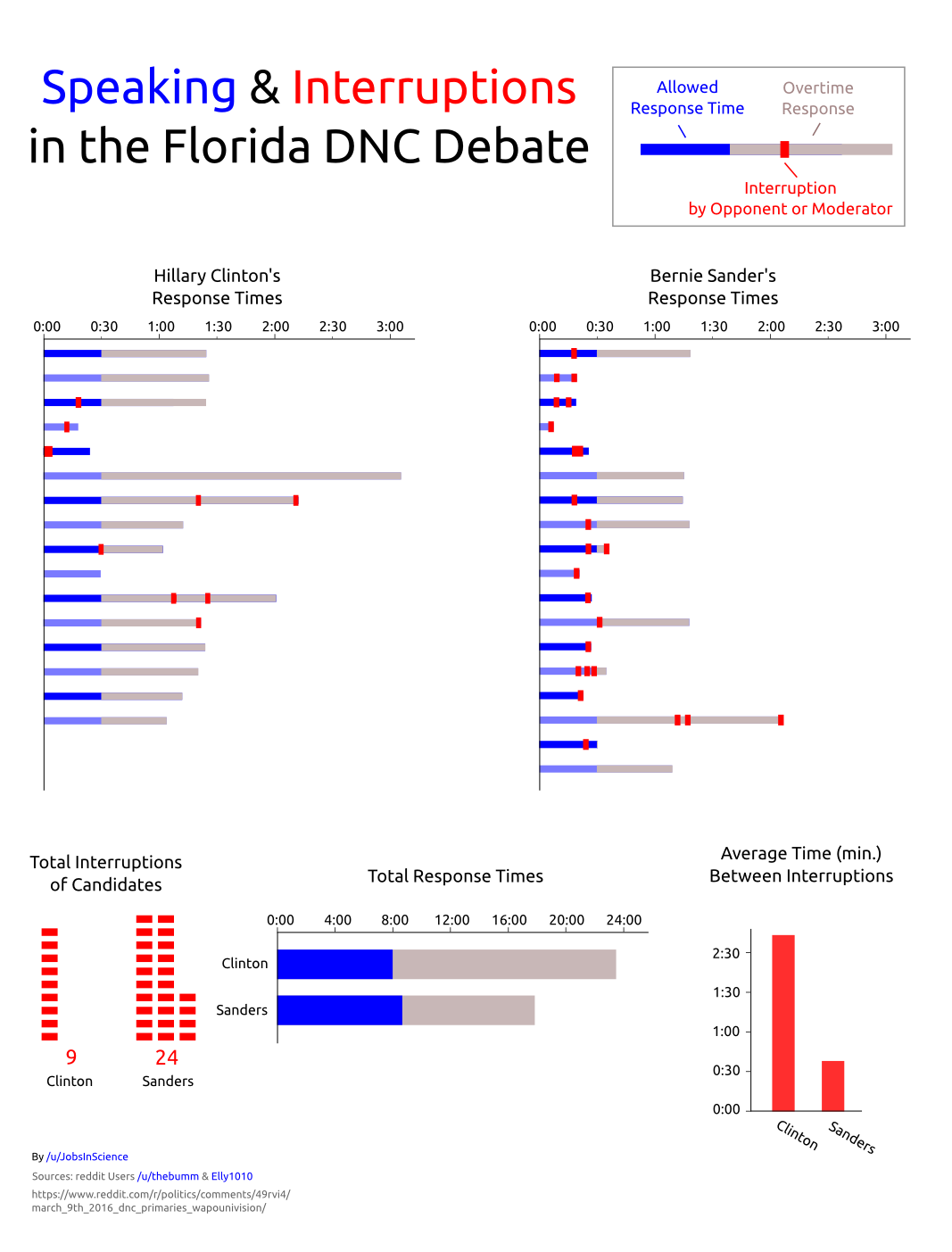 It seems that far-left supporters of the socialist from Vermont are getting their first dosage on what it means to go up against the Clinton machine — and they're realizing it leaves more than just a sour taste in the mouth of voters.
https://t.co/KeyAwmWwmZ So, Hillary can cheat at the debate and it's okay. Makes DNC sense! #FeelTheBern

— Berning4America (@ChefLarryEdward) March 10, 2016
See DNC Rule 1 – DNC rules don't apply to Hillary https://t.co/gMsemWz9kB

— JAMESG (@MgriffinJames) March 10, 2016
– The Horn editorial staff