Last night, Texas Sen. Ted Cruz and Vermont Sen. Bernie Sanders squared off in a public debate on the future of Obamacare.
Only problem? It was hosted by CNN – and supporters of President Donald Trump on social media claim they found evidence the network rigged the debate… again!
REVEALED: Hillary's plan to "overthrow" Trump [sponsored]
"Cruz, a Texas Republican and Affordable Care Act opponent, wants to lower health care costs by increasing competition in the health insurance industry. Sanders, a Vermont independent and one of the architects of the Affordable Care Act, wants a government-run, single-payer system to compete with insurance companies to lower costs," the Boston Herald reported on the showdown.
But accusations have surfaced that the intellectual square-off wasn't on neutral ground, as was promised.
Conservative viewers claim they found proof CNN was planting audience questions.
Eagle-eyed internet users on the president's Reddit discussion forum caught a glimpse of a strange email one woman was seen holding. The following picture quickly spread —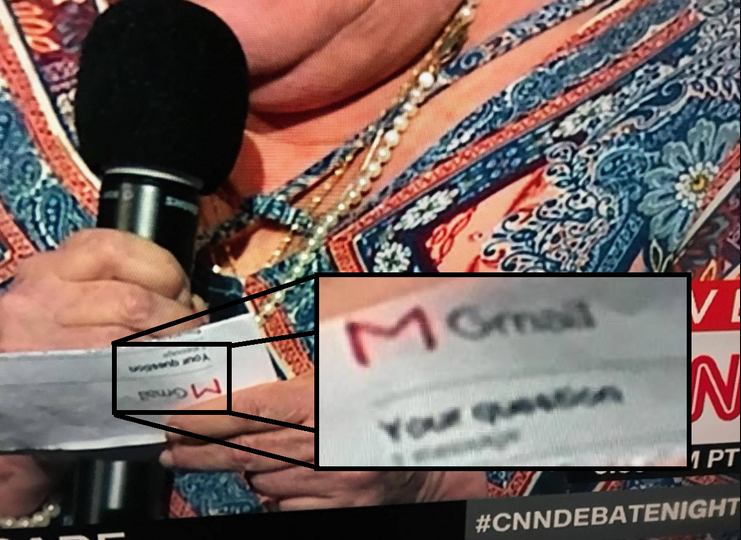 The implications are obvious – was CNN just caught providing questions to their audience?
By itself, the photo is hardly damning. After all, one user noted, "You probably submitted your question and bio for the debate, and if they pick you, you get that email, and that old lady just printed out the email she got."
But considering CNN's past history, critics say there's plenty of reason to be suspicious.
After all, the network – which the president has repeatedly called "fake news" – was busted meddling in debates and circulating anti-conservative falsehoods throughout the past year.
For example, Democrat Donna Brazile was caught providing the Clinton campaign debate questions before a March primary debate against Sanders.
BOMBSHELL: Will Hillary go to JAIL for this? [sponsored]
The news network was also caught in October telling a focus group what to say live on air after the presidential debate.
CNN was widely accused of banning all "Hillary in the bunker" meltdown stories following her election loss in November —
Plausible given what we know of her & if true, very telling that the @CNN reporter knew about it yet but failed to report it to the public https://t.co/EUX3XgzuRh

— J Deplorable Valette (@Jean_de_Valette) November 15, 2016
And in January, CNN released an unverified 32-page dossier containing vicious rumors about Trump that, according to Forbes, was provably false.
Is there any surprise the American public trust of the mainstream media has reached an all-time low?
— The Horn editorial team