The 2016 presidential election is in full swing — and already reports on widespread voting issues are pouring in.
It seems Republican presidential candidate Donald Trump's warnings about fraud and vote machine manipulation may be coming true.
Multiple reports have come out of Pennsylvania of serious issues. In Westmoreland, the county's Republican Committee posted a warning to their Facebook, telling voters that  machines were switching votes from Republican to Democrat.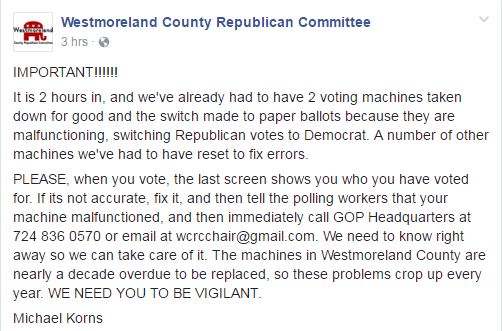 On the eastern side of the state, Pennsylvania GOP Chairman Joseph Defelice is claiming Democrats in Philadelphia are banning Republican poll watchers and minority inspectors from entering poll sites, The Daily Caller reported.
One court-appointed minority inspector posted a video to Twitter describing the interaction.
Court-appointed Minority Inspector at 17&Spring Garden: "I was just told…I'm not allowed to be in the room & … to wait outside". ILLEGAL pic.twitter.com/TajOQxuKDn

— Philly GOP (@PhillyGOP) November 8, 2016
There have been reports of issues in most states with machines. While the overall volume of issues has to do with breakages, there are most dangerous reports coming in as well.
A lawsuit filed Tuesday in Nevada court by Trump's campaign asks that records from four early voting spots that allegedly stayed open too late last Friday be impounded and preserved.
Long lines kept polls open past the 7 p.m. posted closing time at locations that included a Mexican market and several shopping centers. Officials say at one site, the last voter cast a ballot after 10 p.m.
McDonald warned at rally in Reno Saturday, "You feel free right now. You think this is a free and easy election?"
Trump's campaign filed a lawsuit Tuesday in Nevada court asking that records from four early voting spots
---
Sponsored: Is THIS the Biggest Presidential Scandal in History?
A whistleblower is now claiming he has PROOF Hillary rigged the entire election… and it's all on video here.
As a registered voter, you deserve to know the truth.
Just wait until you see the smoking gun revealed at 3:05… (The liberal sheep won't be able to come up with a single excuse for her this time.) WATCH NOW.
---
In Kentucky, Republican chairman Mac Brown is concerned of vote-buying schemes in the eastern part of the state, the State Journal reported. "We have received numerous calls about a meeting held in eastern Kentucky last week where a commitment was made to pay 500 people $35 each to work as 'vote haulers' on Election Day," Brown stated, adding there is also concern since there is, "a well-known and recent history of vote-buying in the region."
The Horn News readers have also complained. Skipp Vose from California wrote in that he was turned away from casting his ballot because election officials inaccurately claimed that he had already voted by mail."When I told them that I did not and never have I had to push to have my vote done and they took it as a 'Provisional Voter' vote saying that it would be checked to see if I had voted by mail to count it," Mr. Vose wrote. "I have not only never voted by mail, I have never asked for that."
He's not alone. Sharon Siros complained that voters were being told voting machines in F.J. Kingsbury School in Waterbury, Connecticut were jammed, and voters were receiving unusual instructions on using a slot on the side of the machine.
Irene Varadi reported that she witnessed voter disenfranchisement in the Van Nuys district in Los Angeles, California after a two-hour delay caused by missing voting machines. The issue was first reported by local station KTLA.
Carol McKellar wrote in, "Just to let you know that this morning the voting machine for District 8 in Washington Township, Morris County, NJ wasn't working properly and it was said they had to get a part from Morristown to fix it.  The election workers were concerned some voters may have just left instead of waiting around. Since Washington Township, Morris County, NJ is heavy Republican I can't but wonder what Democratic Morristown was thinking by sending us a bum machine for the Presidential election."
Over in Democrat-heavy Detroit, reports of voting machines jamming or malfunctioning are widespread, forcing voters to leave their ballots in the hands of volunteers, Fox 2 reported.
Even in Trump-friendly districts, issues are being reported. Mississippi Twitter users reported voting machines crashing, resulting in countless eager voters being turned away from the polls.
@realDonaldTrump @KellyannePolls -Voter problems in Jackson County,Miss. Polls turning people away due to machine breakdown.????My poll was ok????

— Deplorable Leanna C (@DodeTwo2) November 8, 2016
There has been reports of sporadic violence as well. In Jupiter, Florida a man supporting Democratic nominee Hillary Clinton reportedly tackled and punched a woman campaigning for Republican nominee Donald Trump outside the polling station. Witnesses say the two had a heated argument, and during the struggle the woman pepper-sprayed the man before the two were separated, local station WPBF reported.
Experienced or witnessed voting problems? Spotted something illegal? Tell us about it, email us at [email protected].