The Houston Astros' victorious World Series run has not only given an emotional boost to a city still recovering from Hurricane Harvey. It has provided an economic lift as well.
And for one Houston family, the journey to a championship led to a financial opportunity that will help their grandparents rebuild after the devastating storm.
Brianne Bueno's family had bought two tickets for Game 3 of the World Series in Houston but didn't use them to watch their beloved Astros. Instead, the family raffled them off last week on Facebook and raised enough money to help repair the Houston-area home of Bueno's grandparents.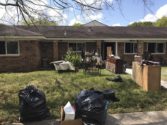 Sponsored: Is the FBI in on massive Hillary cover up?
"During Game 6, I got a text from one of the ladies who purchased a ticket. She put, 'Glad it went well with the raffle. Was bummed to not win the tickets but really hope you guys were able to help out your folks,'" Bueno said. "This is like … a whole week since the raffle and people are still showing their support for us, which is pretty amazing."
Local businesses saw increased sales, with people spending more money at restaurants, bars and hotels.
"It's obvious more people were out on the streets, and more people were out spending money that they wouldn't have spent otherwise," said Patrick Jankowski, regional economist for the Greater Houston Partnership. "It's like a shot in the arm for the city."
He said Houston's economy had been rebounding after bottoming out in August 2016 due to falling oil prices — and then Harvey hit.
Snowflake liberals can't survive THIS, can you? [Sponsored]
That recovery will likely be delayed about three months because of the hurricane.
Bueno said after Harvey's torrential rainfall in late August flooded her grandparents' home about 44 miles (70 kilometers) south of Houston in the city of Angleton, her father bought the World Series tickets with the purpose of raffling them off to raise money. Her grandparents, both 70 years old, lost most of their possessions and now live in the grandfather's small law office.
Bueno said when her father "saw that the tickets for Game 3 were on sale, there was no hesitation for him to buy those and use them for a better purpose rather than fulfilling a desire he had to go to the World Series himself."
She promoted the $20-a-ticket raffle on social media as well as in her classes at the University of Houston. One of her professors bought five tickets.
Sponsored: The non-surgical CURE for chronic pain [finally]
Bueno was surprised so many people found out about the raffle and wanted to buy a ticket. "I didn't expect this reaction honestly," she said.
The tickets were given away on Oct. 26.
With the raffle being a success, having the Astros win the World Series "was definitely the icing on the cake," Bueno said.
Houston Mayor Sylvester Turner said Harvey highlighted the "can-do spirit" of the city's residents.
TRENDING: the 1 simple movement to loose, limber joints [Sponsored]
"It almost seems as though the greater the challenge, Houstonians see the greater the opportunity," Turner said at a news conference Thursday. "So we meet challenges and then we turn around and take advantage of the opportunity."
Marcus Davis, owner of The Breakfast Klub, said the popular restaurant's sales slowed down because of Harvey. But business picked up a lot when the Astros started their playoff run. The Breakfast Klub even hosted Dodgers fans who traveled to Texas from Los Angeles.
"It's not that our spirits are dampened. We just wanted to communicate to the world how strong Houston is and the Astros winning was just symbolism for us," Davis said. "It verified and validated that yes we are strong. We've gone from underwater to the mountain top."
The Associated Press contributed to this article.
Sponsored: What is the latest discovery in heart health? [HINT: It only takes 20 seconds a day…]