Wednesday's third and final presidential debate had a clear winner.
Nearly 40,000 readers of The Horn News voted in our presidential opinion poll, and the results were staggering. Donald Trump demolished rival Hillary Clinton, with over 93% of those surveyed choosing the Republican presidential candidate over his rival.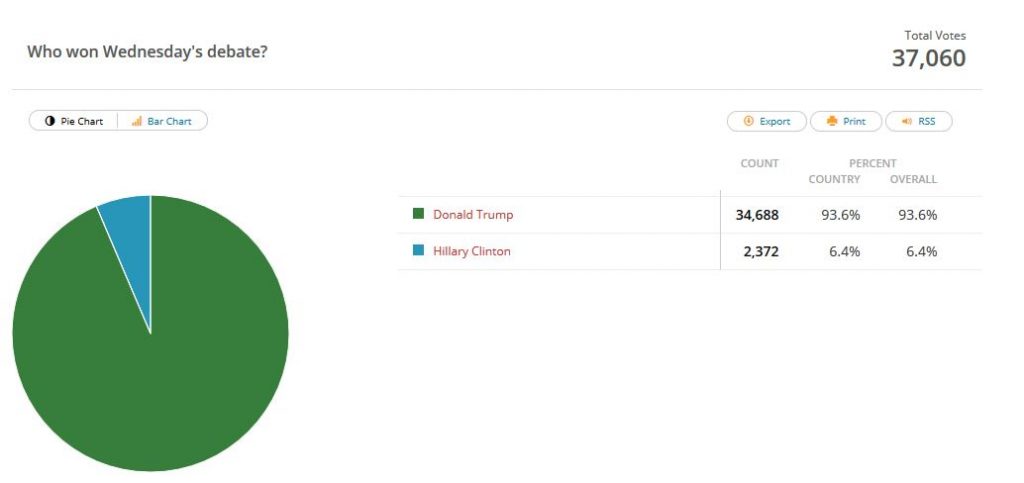 Horn News readers aren't alone in their overwhelming preference for Trump's performance.
All across the internet, polls reflected the same message: Trump won big time.
Poll after Poll has Trump the winner of the debate — Polls will skyrocket upward pic.twitter.com/JuNP0CA2ny

— ????Patriot for Trump (@BigStick2013) October 20, 2016
The win's timing couldn't have been better for Trump's presidential hopes. With just over two weeks until the election, the billionaire political outsider had been rapidly closing the polling gap with Clinton.
A Rassmusen Report poll, an IBD/TIPP poll, and a Los Angeles Times poll — all released Thursday — found the same result: Trump was leading Clinton nationwide by approximately 1 point heading into the debate.
That means Trump's big debate win could be the biggest game changer in the 2016 presidential election yet.
The Horn News presidential debate poll is still open — Click here to go vote now
— The Horn editorial team