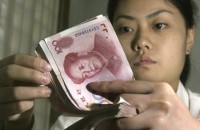 Chinese manufacturing showed further signs of weakness in August, adding to evidence of an unavoidable slowdown in the world's No. 2 economy despite Chinese government efforts to support growth. What that means for American jobs is surprisingly bad.
Our two countries' economies have grown to be symbiotic – That is, they rely on one another. Every time you go to the store and pick up a new pair of cheap sunglasses, or get a small knick-knack for the grand kids, stamped on the plastic is the phrase "Made in China".
The Chinese factories make them. Americans buy them. American companies in charge of shipping and selling the items profit from that, and hire American workers to help.
Because of this, the United States stock market has become (for better or worse) dependent on Chinese growth.
Most analysts expected an eventual China slowdown – But the suddenness of this data is alarming. Investors have been caught off guard, and that could mean a big hit for the American stock markets.
If big enough, that hit will make its way through the entire economy like it did in 2008.
Two factory activity indexes released Tuesday from China were at multi-year lows.
An official manufacturing index based on a survey of factory purchasing managers fell last month to 49.7, the lowest level since August 2012, from 50.0 in July. The index, compiled by the Chinese Federation for Logistics and Purchasing, is based on a 100-point scale. A separate survey, the Caixin purchasing managers' index, fell to a six-year low of 47.3.
Numbers below 50.0 mean that Chinese manufacturing is shrinking. That has caught investors off guard.
Taken together, the surveys provide an ugly picture of weakness in the overall Chinese economy.
The US stock market has lost a huge amount, close to 1,000 points since last week. If the data continues to turn downward, it could come at the cost of American jobs.
The Associated Press contributed to this article