By Stephen Dietrich, Managing Editor
In November, the GOP presidential nominee Donald Trump will be elected in a landslide victory over former Secretary of State Hillary Clinton.
This isn't wishful thinking or a dire warning.
This is simply cold, hard math — and it is backed up by political science studies and election strategist predictions.
In the 2016 general election, Clinton is expected to rely on the same political alliances President Barack Obama used to cruise to victories in 2008 and 2012.
But Clinton has a major math problem. Because she's failed to win over a key group of voters who had supported Obama — working-class whites.
White voters have overwhelmingly and repeatedly rejected Clinton throughout the Democratic primaries, exit polls show. Democratic strategists are worried that Clinton has thoroughly alienated that demographic, and many working-class white voters have flocked to Vermont Sen. Bernie Sanders instead.
Clinton has been able to maintain her frontrunner status through huge wins in the south and a major lead among so-called party "super delegates." But both of those advantages would disappear in a general election, and that will ultimately cost her the presidency.
Democrats will be quick to point out a hole in this prediction — that the percentage of voters classified as non-Hispanic white has dipped slightly since 2012.
But that's not going to matter at all in the general election.
White voters are still the largest voting bloc in America. And in battleground states like Virginia, they count for 7 out of every 10 voters.
According to a study of political trends published by Marisa Abrajano, Associate Professor of Political Science at UC San Diego, white voters will be the deciding factor in the 2016 election — and that's a demographic that has so far been favoring Trump over Clinton.
"Whites still represent 63 percent of the population and, perhaps more importantly, some 75 percent of its voters," Abrajano wrote.
If Clinton continues to perform disastrously in that demographic like she did throughout the entire primary, her campaign is doomed.
As The Horn News reported on Monday, "Democratic strategist Dave 'Mudcat' Saunders believes Donald Trump will beat Hillary Clinton like a 'baby seal,' and that working-class whites who haven't already left the Democratic Party for cultural reasons will do so now for economic ones."
Once you account for the white vote on the electoral college board, it's not just a Trump win in 2016.
It's an electoral college landslide.
The Washington Post's Chris Cillizza first reported this possibility in 2014 in a column reflecting back to Obama's defeat of former Massachusetts Gov. Mitt Romney.
"First of all, there were 129,075,629 votes cast in the 2012 election. (That was two million fewer than were cast in 2008.) Of that total, 72 percent were cast by whites. That's 92,934,452 votes. By comparison, Hispanics cast 12,907,562 votes and African Americans cast 16,779,831 votes," according to Cillizza.
"Now, of the 92,934,452 white votes Romney won 59 percent — or 54,831,326. Obama won 39 percent or a total of 36,244,436," Cillizza wrote, "That means that Romney would have had to increase his margin over Obama by roughly… 2.5 million votes among whites to have won the race — if all of the other demographic breakouts stayed the same."
Trump would need to win a little over 62 perfect of the white vote to capture the popular vote in that scenario, which assumes that Trump will perform at, or just slightly worse, than Romney did in 2012 with other demographics.
Considering Clinton's abysmal performance with independent voters in the primaries — a strength of the Trump campaign — it is not far fetched to predict that outcome.
In Cillizza's analysis, he then goes through a state-by-state breakdown of the numbers in four battle ground states — which you can see here — and concludes that, if Romney had won the popular vote, he would have won the presidency.
His conclusion is a warning to the Republican party — "Unless the white vote heavily consolidates [in 2016] — up to and perhaps beyond Reagan's 66 percent in 1984 — the party will be hard pressed to get to an electoral college majority."
As it stands right now, political strategists predict Trump will do even better than that.
According to The New York Times, "Democratic officials and pollsters say they fear that without a stronger strategy, Mrs. Clinton could perform as poorly among white men as Walter Mondale, who drew just 32 percent in 1984 [against Reagan], or even George McGovern, who took 31 percent in 1972."
In November, if the final numbers turn out anywhere close to Reagan's share among white voters, it would mean a lot of previously dark-blue Democratic states in 2008 and 2012 end up red.
Suddenly, northern states of Minnesota, New Hampshire and Wisconsin — historically fairly safe for Democrats in presidential elections — are battleground states that shade red for Trump in 2016.
States with shifting demographics that Obama was able to secure in either 2008 and 2012 — Virginia and North Carolina — are back to being Republican strongholds.
And historical battleground states like Ohio, Pennsylvania, Iowa, Colorado and Florida are now solidly red. Only Nevada and it's strong anti-Trump vote would be even reasonably expected to swing to Clinton.
It draws an electoral map that should have Democrats terrified —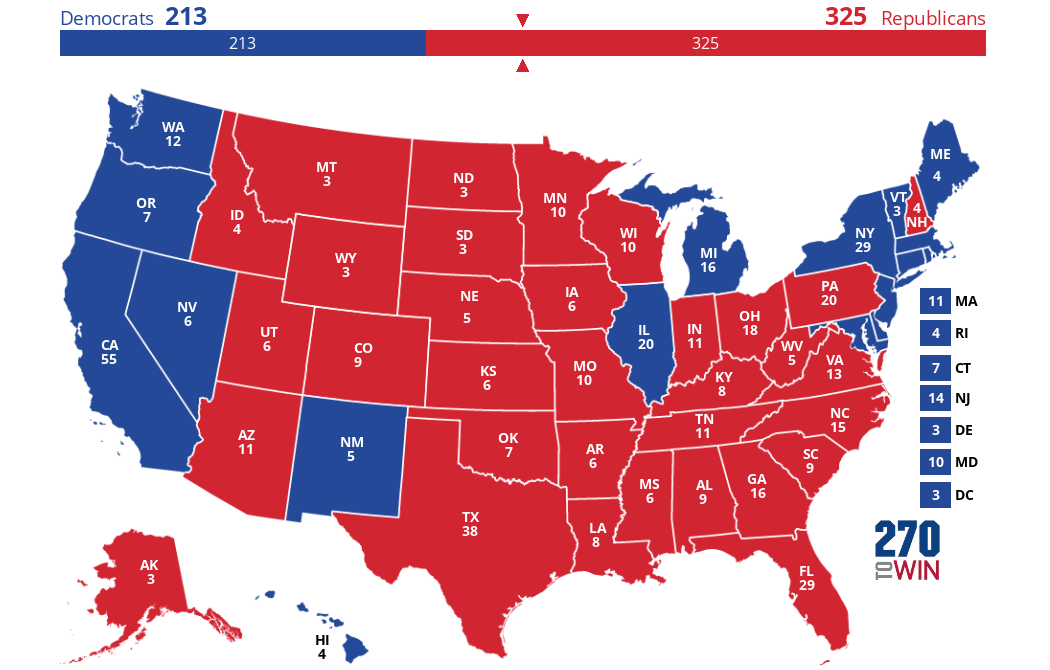 Clinton has a lot of work to do.
Stephen Dietrich is the Managing Editor of The Horn News.