Senate Minority Leader Chuck Schumer, D-N.Y., sent a formal letter to President Donald Trump this week demanding answers on the White House's use of the Defense Production Act.
Schumer urged Trump to appoint a "military czar" to oversee the production of much-needed medical gear. Trump's response quickly went viral — and Schumer said he was "appalled" by the president's stinging letter.
Taste THIS brownie for more energy [Sponsored]
"Dear Senator Schumer: Thank you for your Democrat public relations letter and incorrect sound bites, which are wrong in every way," the letter started.
Trump's letter pointed out that his work with the private sector was going so well he didn't need to lean on the full powers of the Defense Production Act.
He also pointed out that the White House had already appointed U.S. Navy Rear Admiral John Polowczyk to oversee the effort — which Schumer should have known.
"If you spent less time on your ridiculous impeachment hoax, which went haplessly on forever and ended up going nowhere (except increasing my poll numbers), and instead focused on helping the people of New York, then New York would not have been so completely unprepared for the 'invisible enemy.' No wonder AOC and others are thinking about running against you in the primary. If they did, they would likely win," Trump wrote.
"Fortunately, we have been working with your state and city governments, Governor Andrew Cuomo and Mayor Bill DeBlasio, to get the job done. You have been missing in action, except when it comes to the 'press.' While you have stated that you don't like Andrew Cuomo, you ought to start working alongside him for the good of all New Yorkers. I've known you for many years, but I never knew how bad a Senator you are for the state of New York, until I became President," he continued.
Trump concluded the letter by saying his door was open if Schumer had any further questions.
"Or, in the alternative, call Rear Admiral Polowczyk. Sincerely yours, Donald Trump."
"90-year-old mitochondria becoming 30-years-old" [Sponsored]
You can see the full copy of Trump's response here —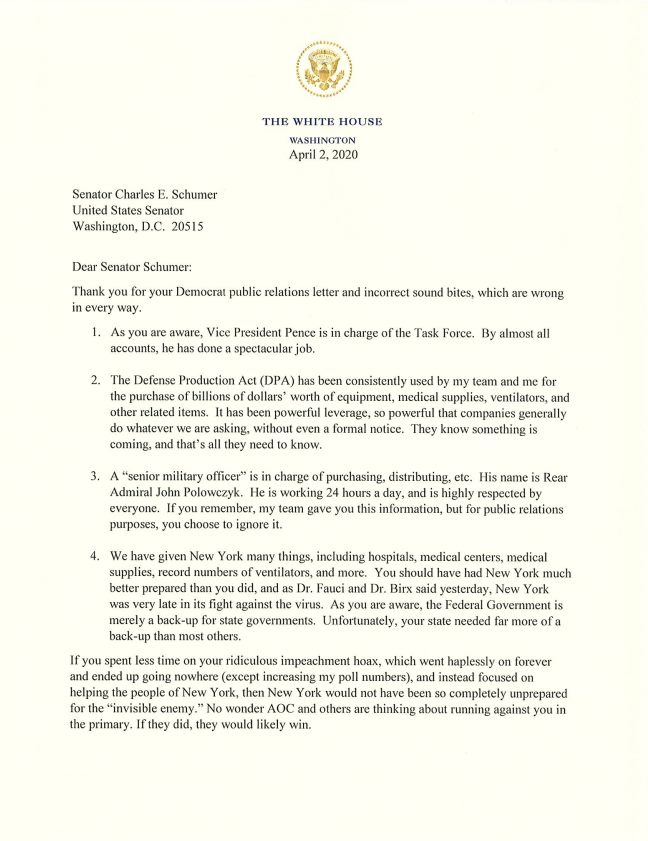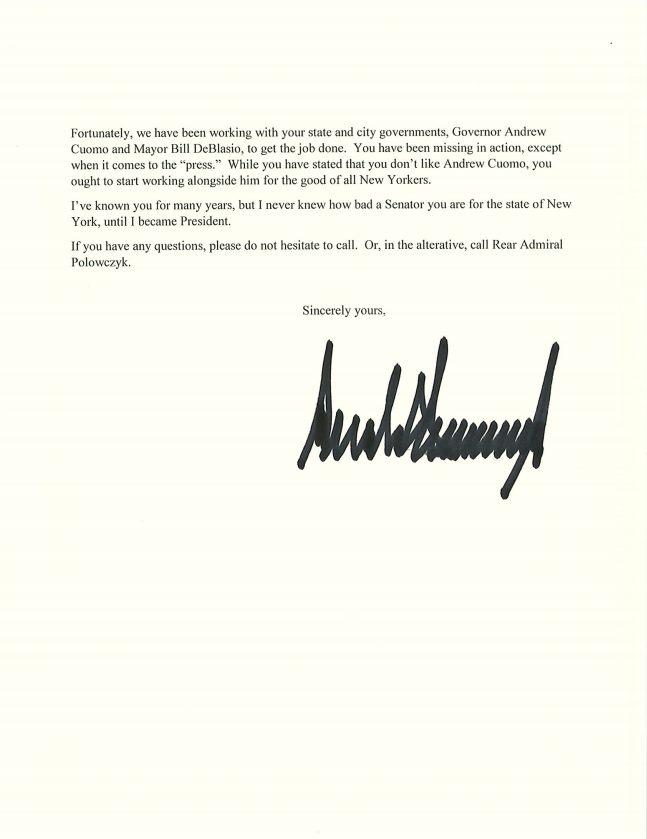 The Horn editorial team