North Korean dictator Kim Jong Un has been ramping up the pressure since President Donald Trump took office.
Tuesday, after yet another threatening ballistic missile launch attempt, the Trump administration took an unprecedented — and shocking — approach to the madman's cry for attention.
Sponsored: Alarming Video: Hillary's New War
Just two days ahead of Chinese President Xi Jinping's visit to Trump's Mar-a-Lago resort in Florida, where North Korea will likely be a focus, Secretary of State Rex Tillerson has proven that he's had enough with Pyongyang and Kim Jong Un.
Tillerson released an official and rare statement Tuesday saying: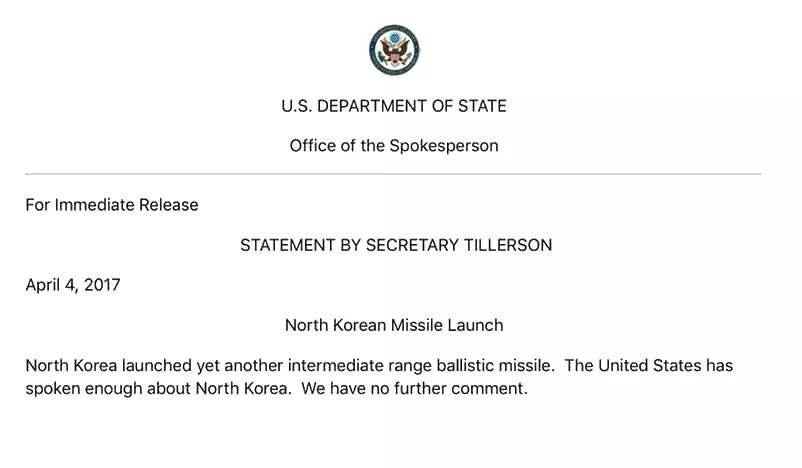 While it's a simple, short statement, the 28-word message speaks volumes. And it has China's leaders in a panic.
Tillerson is making it clear to the world that the United States will not play a puppet in North Korea's game of threats. Kim Jong Un used the tension-game to garner attention and then use it as leverage for concessions from former President Barack Obama.
"It seems Tillerson purposefully issued a short statement to send a tough signal," said Kim Sung-han, a professor at Seoul's Korea University and a former South Korean deputy foreign minister. "He is making it clear that, no matter what North Korea does, the United States won't commit to direct negotiations unless Pyongyang shows real willingness for disarmament."
Sponsored: CNN Refuses To Show This Explosive Hillary Video
Trump has said China must do more to pressure North Korea to halt its nuclear program. But Chinese Foreign Ministry spokeswoman Hua Chunying said Wednesday that all sides needed to be involved, showing a clear disconnect between the Chinese and Trump's administration on the best ways to handle North Korea's military threats.
In an interview with the Financial Times, Trump displayed his stern outlook, saying, "China has great influence over North Korea. And China will either decide to help us with North Korea, or they won't."
The missile launch, taking place just before the Florida meeting, raises speculation that the timing was not at all a coincidence, but rather a warning to Trump and Pyongyang's only major ally, China.
North Korea has expressed intense anger of the U.S. military drills in South Korea, which they see as preparation for invasion. Experts speculate that the missile launch is a message that regardless of sanctions, Jingping can be sure that the nuclear and missile tests will continue.
Sponsored: Leaked! Hillary's NEW plot to steal White House from Trump
Initial U.S. and South Korean assessments indicate it was a KN-15 medium-range missile, whose first known test by North Korea was in February.
The KN-15, known as "Pukguksong-2" in North Korea, uses pre-loaded solid fuel, which shortens launch preparation times, boosts its mobility and makes it harder for outsiders to detect ahead of liftoff. Most North Korean missiles use liquid propellant, which generally must be added to the missile on the launch pad before firing.
The KN-15 is believed to be an upgraded version of the submarine-launched "Pukguksong" launched last summer. Many experts say a "Pukguksong-2" missile would be a greater security threat, because it can be launched anywhere from a mobile vehicle. While submarines are a stealthy way to do that, North Korea doesn't have enough of them.
-The Horn News editorial team and The Associated Press contributed to this article.