Eager to show heart in a moment of crisis, President Donald Trump handed out hot dogs, hugs and comforting words in the Carolinas on Wednesday as he surveyed the wreckage left by Hurricane Florence.
With residents still recovering from torrential rains that left widespread destruction and injury, Trump sought to strike a balance between comforter and cheerleader, mindful that he has been criticized in the past for not showing sufficient empathy in the face of tragedy.
During a packed day, a wind-breaker-clad Trump visited both North and South Carolina, distributed meals at a church, walked amid piles of sodden furniture in damaged neighborhoods, offered hugs and handshakes to residents and discussed the response efforts with local and state officials.
Sponsored: True Cause of Cancer Stuns Oncologists
"America grieves with you and our hearts break for you. God bless you," he said during a briefing at a marine base in Havelock, North Carolina. "We will never forget your loss. We will never leave your side. We're with you all the way."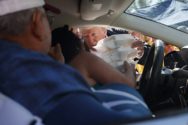 There were still flashes of Trump's outsized persona and unconventional style — he asked about the status of Lake Norman, where he owns a golf club, telling officials, "I can't tell you why, but I love that area."
He also joked with a family who had a large yacht they didn't own wash up against their house. "At least you got a nice boat out of the deal," he told them. "What's the law? Maybe it becomes theirs."
Sponsored: Billionaire's Horrifying Prediction: '30 Million Will Die'
And he was caught on camera telling a person to whom he had just handed food to "have a good time."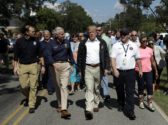 Trump's made his whirlwind tour through the Carolinas five days after the storm, which was blamed for at least 37 deaths in North Carolina, South Carolina and Virginia. North and South Carolina both backed Trump in the 2016 election, and the president largely saw people who were happy to greet him. One man told the president he'd named his dog after Trump.
After a briefing on the recovery effort in North Carolina, Trump helped hand out hot dogs and chips at a Baptist church in New Bern, a riverfront city that experienced severe flooding. The president leaned over and checked in with people as they drove through to pick up food.
"How's the house?" he asked one person. "You take care of yourself," he said.
Sponsored: Is your doctor taking your blood pressure the wrong way? (shocking)
Trump also praised the volunteers, at one point hugging a young helper and telling his parents, "You did a good job."
Trump walked through a storm-damaged neighborhood where waterlogged sofa cushions, mattresses and downed trees were piled up along streets.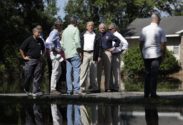 "How's it doing?" the president asked after one woman pointed at a house. He chatted and shook people's hands as he walked along a street strewn with trash, branches and wet furniture. Some people applauded as he went by.
Trump later traveled to Conway, South Carolina, where more flooding is expected still. He toured a neighborhood where a street was already submerged under water.
Sponsored: Why are doctors keeping quiet about pain-free living?
"Is everybody OK?" he asked those gathered, assuring them it was "going to be OK."
"Lot of money coming from Washington," he promised.
At Horry County's emergency operations center, South Carolina Gov. Henry McMaster said the storm had likely been the worst disaster in the state's history, but warned it wasn't over yet.
"The rain and the water you see out there now is just the beginning," he said. "The worst is yet to come."
Sponsored: Man Complaining of Headaches Had Shocking Object Inside His Head
Trump, too, warned that more water was on the way, but assured those gathered that both he and Washington are "with you."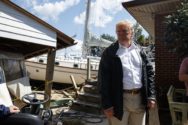 "Now it looks nice, but it's really the calm before the storm," he said.
It was the same message at Trump's first stop in North Carolina, where Gov. Roy Cooper and federal and state officials briefed the president at a Marine Corps air station in Havelock, which sits among areas Florence hit hardest. The governor asked for help "cutting red tape" to get his state the federal assistance it will need to recover.
Cooper said Florence was an "epic" storm and noted that farmers suffered significant losses and scores of people lost their homes. Some 10,000 people remain in shelters.
BUSTED Hillary caught "rigging" the election? [sponsored]
"We will be there 100 percent," pledged Trump. "All of the folks from the federal government that are around the table are confirming it."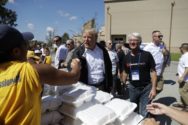 Cooper, a Democrat, said he'd told the president "over and over again" that the state was "going to need significant resources to recover."
"He promised 100 percent support and we're going to hold them to it," he said of Trump.
Finally, a CURE for all pain [sponsored]
When Trump visited San Juan last October after Hurricane Maria, he pumped his fists in the air when he landed. The enduring image of the trip was of Trump at a church lobbing paper towels into the crowd as if shooting baskets. It seemed to reflect Trump's brand of playfulness. Many people in the crowd smiled and raised their phones to record the moment.
Before that, Trump's took a trip to Texas after Hurricane Harvey, he also cheered on volunteers and emergency workers and handed out hot dogs and potato chips to residents.
The Associated Press contributed to this article.