Republican Donald Trump said Monday that former Secretary of State Hillary Clinton lied through her teeth when she said during a Democratic Party debate that ISIS used videos of his comments about Muslims to recruit militants.
Turns out Trump is correct. It's not the bombastic billionaire that has become recruiting fodder for Islamic extremists… but President Obama's administration.
Here's a still shot featured in a recent ISIS recruitment video that's been widely circulated online.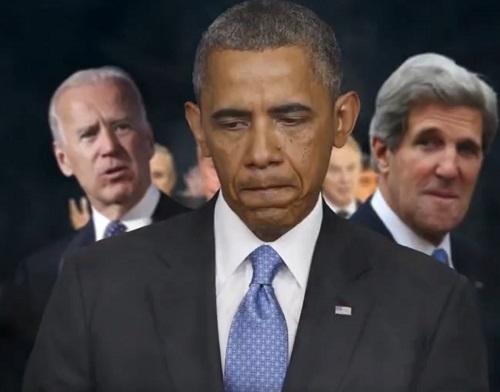 Trump took to social media and used rally speeches to demand an apology from Clinton, his leading Democratic opponent.
"She's a liar!" Trump told more than 6,000 people at an event in Grand Rapids, Michigan on Monday evening. He also said Clinton was "crooked" and "not a president."
During Saturday's faceoff among Democrats, Clinton said Trump had become the Islamic State's "best recruiter" and said, "They are going to people showing videos of Donald Trump insulting Islam and Muslims in order to recruit more radical jihadists."
There was no evidence to back the claim, and a spokeswoman later said, "She didn't have a particular video in mind."
Perhaps if she'd checked, Clinton would have noticed that while ISIS does not use Trump in its videos, it regularly features another politician the group labels as a "fornicator":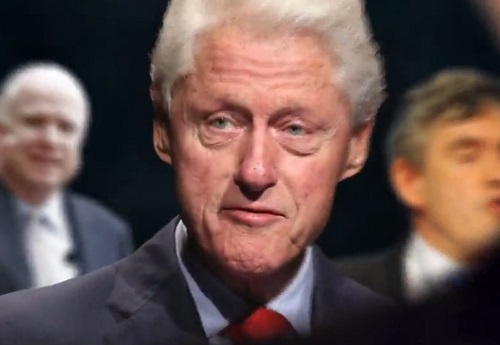 How embarrassing.
Still, Clinton campaign spokesman Brian Fallon, asked Monday by MSNBC if Clinton would apologize to Trump, insisted, "Hell, no."
Trump believes Clinton has been attacking him because he's the last person she wants to run against in a general election.
"Ask Jeb Bush if he enjoys running against me," he said of the former Florida governor who has been struggling to gain traction despite a massive early fundraising advantage.
"Ask Lindsey Graham, did he enjoy running against Trump?" he said of the South Carolina senator who on Monday announced his departure from the race.
The Associated Press contributed to this article