The New York Times top economist and op-ed writer, Paul Krugman, is a fiercely anti-President Donald Trump critic.
But a new scandal has him and his Times bosses scrambling for damage control.
Sponsored: How to Destroy Fat In THIS Tough Area
The veteran columnist and Nobel Prize winner claimed that child pornography downloaded on his internet was the work of a hacker.
This isn't the first time Krugman has claimed innocence when it comes to questionable online behavior.
"Oh, joy," he wrote late last year, in a since-deleted tweet. "I got a notification that someone tried to sign me up for a site that offers 'live sex cams'. I'm sure whoever is engaging in this harassment are very fine people. If one of these attempts succeeds, advance notice: it wasn't me."
Sponsored: Shocking: Hitler's Final Secret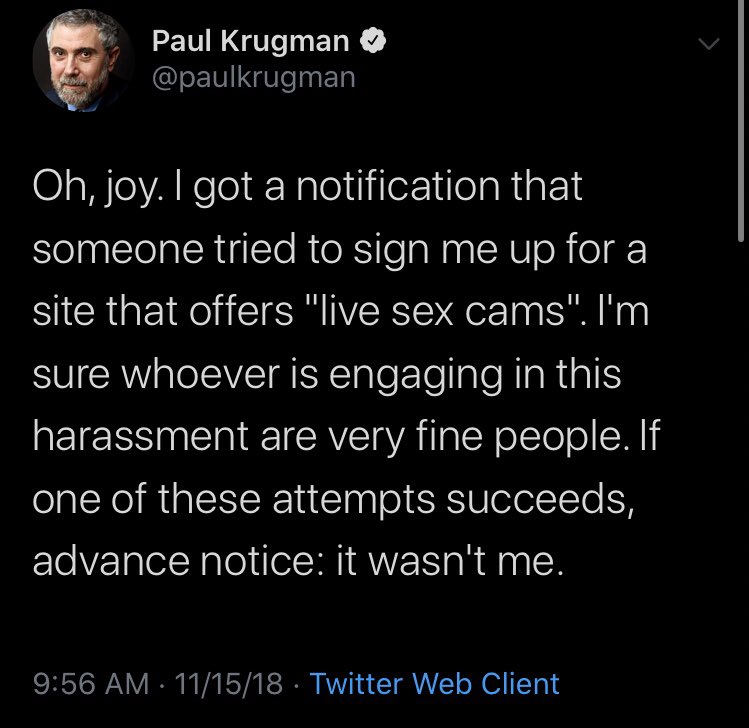 On Wednesday, Krugman also claimed innocence — this time to child pornography.
"Someone compromised my IP address and is using it to download child pornography," Krugman wrote, in a tweet he also deleted. "I might just be a random target. But this could be an attempt QAnon me. It's an ugly world out there."
In a strange way, Krugman seemed to be blaming President Donald Trump supporters.
Over 60? Shocking link between sex and cancer [Sponsored]
Here's how: Krugman mentioned that someone may be attempting to QAnon him — a term which alludes to a fringe conspiracy theory that Trump is secretly trying to root out and expose Democratic and liberal pedophiles in the Deep State.
Strange indeed.
According to The Hill and another deleted tweet, Krugman says The Times is "on the case," which indicates an internal investigation may be taking place at the moment.
Still, many Americans have questions —
I have questions. pic.twitter.com/ke3TKg7kTX

— JERRY DUNLEAVY (@JerryDunleavy) January 9, 2020
And some social media pundits, like Carmine Sabia, are convinced that Krugman tried to jump out in front of the potential scandal before it could explode.
Russia's dark secret about Trump [Sponsored]
The only reason I could imagine someone like Paul Krugman would say, when no one asked him, that he got hacked and someone downloaded child porn to his computer is because he learned that he was about to be outed.

— Carmine Sabia (@CarmineSabia) January 9, 2020
And there are even those who claim to be hacking experts who aren't buying a word of Krugman's explanation…
Sorry Paul, but that's not at all how "IP address(es)" work.

"Compromise your address?" .. to "download child pornography?"

Sorry, but that doesn't make sense. I hope you contact your legal team after you get off the phone with your "computer security service."

— Ken Masters (@KenMastersUSA) January 8, 2020
The Horn editorial team