On Tuesday, the House watched President Joe Biden deliver his State of the Union address… but one more House Democrat has checked out.
The previous day, Rep. Ted Deutch, D-Fla., announced his decision not to run for re-election in November.
Controversial Formula Increases Animal Lifespan [Sponsored]
He has become the 31st Democrat to announce retirement from the House. By comparison, only 13 Republicans have announced retirement.
The Democrats are leaving in droves.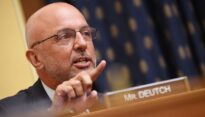 Deutch wrote in a press release on Monday, "After serving the public for more than 15 years, I have decided I will not seek re-election this November."
Deutch has served in the House since April 2010, after winning a special election earlier that year. Before that, he served in the Florida Senate.
He earned national attention after the school shooting in Parkland, Florida, and he pushed for gun control in his statement.
"I'm proud of my work to make our communities safer from gun violence," he wrote.
"Our community was profoundly changed on February 14, 2018. Seventeen students and teachers of Marjory Stoneman Douglas High School were killed that day, and I have tried every day since to be there for their families and to help them honor the memories of their loved ones in all the ways they are working to make our schools and community safer. I have also tried to support the survivors in any way I can, though it is their powerful voices that have helped create desperately needed change. The Parkland families and student survivors inspire me every day."
Sponsored: Discover the 3 foods that contain powerful blood pressure-improving nutrients
In the House, Deutch survived two rounds of redistricting. He currently represents a heavily Democratic district around Boca Raton in south Florida, and he has won a landslide victory in every election for his House seat. In 2014, the GOP didn't even run anybody against him.
Then, in 2020, Deutch faced the closest election of his House career. He won less than 60 percent of the general electorate for the first time.
Florida Democrats reported political trouble that same year. Some of them outperformed Biden but still lost their House seats. Former Rep. Debbie Mucarsel-Powell, D-Fla., wrote a viral Twitter thread about that subject after the 2020 election.
Deutch himself ran one point ahead of Biden but still saw his margin of victory decline by three points, as the state trended Republican.
Deutch, who is Jewish, plans to leave public service to work as C.E.O. for the American Jewish Committee, a nonprofit based in New York.
Over 60? You Need To Know About This Enzyme [Sponsored]
The nonprofit confirmed the news in a press release.
"We are very pleased to announce that Ted Deutch will serve as AJC's next CEO," wrote AJC President Harriet P. Schleifer.
"Ted's deep and lifelong commitment to the Jewish community, Israel, and to the protection of democratic values is obvious to all who know him. His shared passion for AJC's mission and vision makes him a natural fit to advance our critical global work and to build on David Harris's extraordinary legacy."
Read Deutch's statement here —
Please read my full statement here 👉https://t.co/aZnZMV27oc pic.twitter.com/LTtY5SRInl

— Rep. Ted Deutch (@RepTedDeutch) February 28, 2022
Despite this swing, I was one of just a few Democrats nationally to outperform Biden. Here's why:
1. Focused on the economy
2. Knocked on 23k doors & had convos w 133k ppl via phone & text
3. Invested big in radio, mail, digital & TV
4. And did it all in English AND Spanish (3/8)

— Debbie Mucarsel-Powell (@DebbieforFL) November 18, 2020
The Horn editorial team