Besieged by allegations of sexual harassment, Democratic Rep. John Conyers resigned from Congress on Tuesday, bringing an abrupt end to the Detroit liberal's nearly 52-year career in the House.
The 88-year-old civil rights leader becomes the highest-ranking figure on Capitol Hill to be brought down by the sexual misconduct allegations that have toppled powerful men in Hollywood, the media and politics in recent weeks.
Conyers made the announcement on a Detroit radio talk show and endorsed his son, John Conyers III, to succeed him.
This makes Conyers the latest in a growing line of liberals whose careers have ended in the sexual harassment witch hunt that has swept through Hollywood and Washington, D.C.
3 signs the end is near… [sponsored]
Michigan state Sen. Ian Conyers, a grandson of John Conyers' brother, told The New York Times for a story Tuesday that the 88-year-old Democrat's doctor "advised him that the rigor of another campaign would be too much for him, just in terms of his health."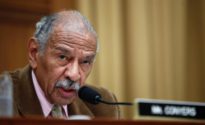 Conyers, who was first elected in 1964, easily won re-election last year in the heavily Democratic 13th District. But following the mounting allegations of sexual harassment, he has faced growing calls to resign even from his former political allies in the House, including House Democratic Leader Nancy Pelosi.
Must See: Watch this veteran DESTROY scientist's argument [sponsored]
John Conyers returned to Detroit from Washington last week and was hospitalized on Wednesday after complaining that he felt light-headed.
The House Ethics Committee is reviewing allegations of harassment against John Conyers.
On Monday, a woman who said she worked for him for more than a decade said he slid his hand up her skirt and rubbed her thighs while she was sitting next to him in the front row of a church.
Sponsored: How to empty your bladder completely [Free Trick]
Elisa Grubbs made the allegation in an affidavit released late Monday by her attorney, Lisa Bloom. Grubbs is the cousin of another accuser, Marion Brown, who reached a confidential settlement with Conyers over sexual harassment allegations, but broke the confidentiality agreement to speak publicly last week.
Bloom posted Grubbs' affidavit on Twitter —
Congressman Conyers: women who worked for you deserved better.
This is the first of several affidavits I will be releasing describing allegations that you sexually harassed staffers and covered up complaints.
My client Marion Brown asks only for an acknowledgement and apology. pic.twitter.com/Shfh1dMXd2

— Lisa Bloom (@LisaBloom) December 5, 2017
Grubbs' affidavit says that she worked for Conyers in various roles from approximately 2001 to about 2013.
Sponsored: Two drops. 45 seconds. Zero pain.
"Rep. Conyers slid his hand up my skirt and rubbed my thighs while I was sitting next to him in the front row of a church," Grubbs said. "I was startled and sprang to my feet and exclaimed, 'He just ran his hand up my thigh!' Other staffers witnessed the event."
She also said that she saw Conyers touching and stroking the legs and buttocks of Brown and other female staffers on "multiple occasions."
Grubbs said witnessing such harassment "was a regular part of life while working in the office of Rep. Conyers."
One time when Grubbs was at Conyers home, she said he came out of the bathroom naked when he knew she was in the room.
If you eat THIS on Christmas, you're growing deadly tumors [Sponsored]
Reed told The Detroit Free Press that the allegations by Grubbs are "another instance of tomfoolery from the mouth of Harvey Weinstein's attorney." Bloom previously represented Hollywood executive and top Democratic donor Weinstein, who is accused of rape and assault by a number of women.
The Associated Press contributed to this article