Following a state Supreme Court ruling, workers last night began the shameful act of tearing down the six-foot-tall granite monument of the Ten Commandments that has sat outside the Oklahoma State Capitol for several years.
And it's all because a Baptist minister sued.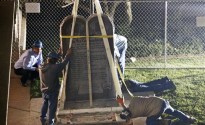 The lead plaintiff in the lawsuit to take down the statue was Minister Bruce Prescott, director of Mainstream Oklahoma Baptists, who worked with the American Civil Liberties Union to file the lawsuit.
Under court orders yesterday, workers jackhammered and craned away the statue.
A panel that oversees artwork at the statehouse voted 7-1 on Tuesday to authorize the privately funded monument's removal after the state's highest court was forced to rule that it violated the Oklahoma Constitution.
The original monument was smashed into pieces last year when someone drove a car across the Capitol lawn and crashed into it. A 29-year-old man who was arrested the next day was admitted to a hospital for mental health treatment, and formal charges were never filed. A new monument was erected in January.
A bill authorizing the monument was approved by the Republican-controlled Legislature and signed into law by former Gov. Brad Henry, a Democrat, in 2009. Prescott then sued to have it removed, arguing that it violates Oklahoma law. Oklahoma Attorney General Scott Pruitt fought to keep the monument, maintaining that it serves a secular – not religious – purpose, but was overruled by the state Supreme Court.
The Associated Press contributed to this article