An up-and-coming House committee chairman announced his candidacy Sunday for speaker of the House, a move applauded by his Tea Party backers.
And with reports that House Majority Leader Kevin McCarthy, a favorite among GOP moderates, may not have the support he needs, the notion of a Tea Party speaker is becoming more plausible.
In announcing his candidacy for the speaker role, Rep. Jason Chaffetz of Utah presented himself as a new face who can unite the House in the wake of Speaker John Boehner's sudden resignation last month.
The House GOP will vote by secret ballot on Thursday, followed by a floor vote in the full House later in the month.
"I can bridge that divide between our more centrist members and some of the more far-right-wing members. That's why I've entered this race," Chaffetz told "Fox News Sunday."
"The American public wants to see a change. They want a fresh start," Chaffetz said. "There's a reason why we see this phenomenon across the country, and you don't just give an automatic promotion to the existing leadership team. That doesn't signal change."
Chaffetz, the 48-year-old chairman of the House Oversight and Government Reform Committee, has used that post to launch high-profile investigations of the Secret Service, Planned Parenthood and other issues.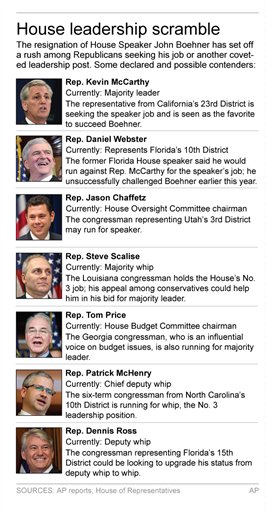 His candidacy, which took most lawmakers by surprise when news began to emerge Friday, underscores chaos in the House little more than a week after Boehner, R-Ohio, announced he would resign rather than face a possible floor vote to depose him pushed by hard-line conservatives.
In the days immediately following, McCarthy was viewed as the presumptive favorite to replace the outgoing speaker, who quickly endorsed his No. 2.
But that dynamic began to shift, particularly following McCarthy's gaffe last week suggesting that the purpose of a special House committee investigating the deadly attacks in 2012 of the U.S. mission in Benghazi, Libya, was to drive down former Secretary of State Hillary Clinton's poll numbers.
McCarthy retracted the comment and said he regrets it, but it's given a potent weapon to opponents ahead of a high-profile Oct. 22 appearance by Clinton before the committee. The Benghazi attacks killed four Americans, including the U.S. ambassador to Libya.
Chaffetz acknowledged that McCarthy has the support of a majority of House Republicans, making Boehner's deputy the likely winner in secret-ballot elections set for Thursday.
But under House rules, that outcome does not guarantee that McCarthy will become speaker. He also has to win a public vote of the full House later in October. That outcome is less certain because of potential opposition to McCarthy from the same 30-plus hard-line conservatives who pushed Boehner out.
"You might have another one or two that step in the race to get their names in the race and I wouldn't be surprised by that," Rep. Marsha Blackburn, R-Tenn., who is supporting McCarthy, said on CNN's "State of the Union." "I do think McCarthy has the votes for it. He did speak inartfully this week. There's no doubt, that's something that has hurt him and I'm sure he wishes he could take it back and reposition."
There are 247 Republicans and 188 Democrats in the House, and Democrats would be certain to vote against McCarthy. That means McCarthy could lose only 29 Republicans and still come out with majority support.
Chaffetz asserted that it's a vote McCarthy cannot win. "He's going to fall short," Chaffetz said.
Indeed, so far McCarthy has not claimed he has the needed 218 votes locked up. Nor is it clear that the House GOP's hard-line faction will embrace him, especially because of an episode where he briefly revoked a subcommittee chairman's gavel to try to enforce obedience to leadership.
McCarthy's spokesman declined comment on Chaffetz's announcement.
The Associated Press contributed to this article