Numbers speak louder than words — and right now, they're shouting that Republican presidential candidate Donald Trump is winning.
Multiple renowned statisticians, pollsters and math geeks, have announced that they have crunched the digits and, if the election were held today, America would have a Trump presidency.
Famous statistician and editor-in-chief of the FiveThirtyEight blog, Nate Silver, has projected Trump would have a 57.7% chance of winning the presidency today, compared to 42.5% for Democratic nominee Hillary Clinton.
His prediction includes a Trump win in the swing states of Florida, Pennsylvania, Ohio, North Carolina, Iowa, Nevada and New Hampshire – capturing 285 electoral votes to secure the presidency.
And Silver's word isn't to be taken lightly.
In the 2012 election, he earned the nickname "America's chief wizard" from Gawker, by not only correctly predicting an Obama win, but accurately predicting the outcome in every single state, plus the District of Columbia.
Silver's not the only one making these Trump prophecies.
RealClearPolitics average of numerous, credible national polls shows Trump ahead as well.
Trump experienced a 6-point post-convention bump, according to CNN, giving Trump his best showing against Clinton since September 2015.
According to these pollsters, it's not just his voting numbers that are on the up-swing. Trump's favorability rating skyrocketed following the convention, with 46% of registered voters saying they have a positive view of Trump — far better than presumptive Democratic presidential nominee Hillary Clinton.
Trump also has a double-digit lead over Clinton as more trusted on the economy and terrorism, and 52% say he is running for the good of the country rather than personal gain, compared to 44% for Hillary.
But you don't have to be a math major to see the trend. In looking at the recent polls, statistics, and reliable predictions, it is clear the Clinton campaign should be terrified.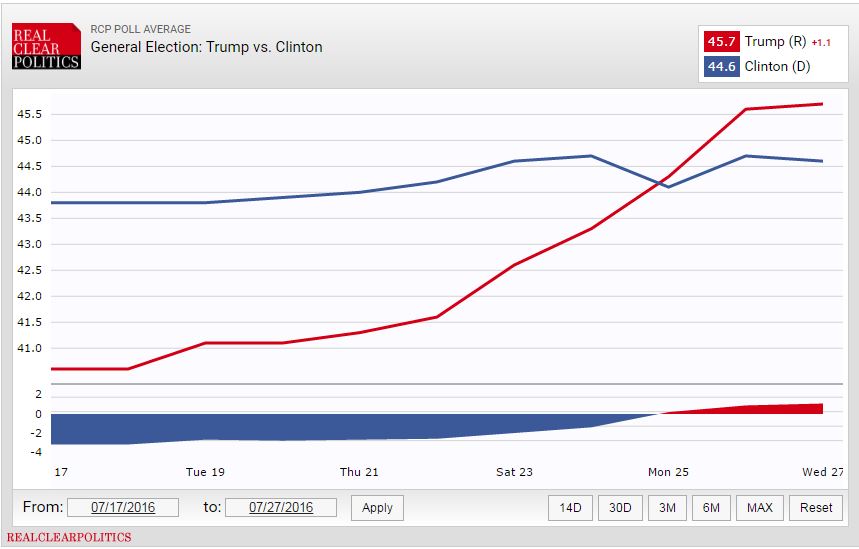 — The Horn editorial team