The Republican party has tried every dirty trick to keep billionaire Donald Trump from winning the GOP presidential nomination.
But if Trump emerges from the July Republican National Convention as the party's nominee, a group of wealthy Republicans has a "plan B" to make sure he still never reaches the White House.
According to multiple reports, some senior, well-funded members of the Republican party are readying a complex plan to install their chosen man in the White House — retired Marine General James Mattis.
"An anonymous group of conservative billionaires is ready to place their bets on a man dubbed 'Mad Dog,' hoping to draft him into the presidential race to confront Donald Trump," reports the Daily Beast.
The Daily Caller says his name is being circulated by anti-Trump Republican party insiders that are "looking into the possibility of fielding a third-party presidential ticket if Donald Trump wins the Republican nomination."
In fact, according to the The Daily Beast's Tim Mak, there have already been six strategic memos drafted outlining how Mattis could win, with the hopes of luring him into the race.
The party insiders would rely on the anti-Trump and anti-Hillary Clinton third party vote to split the electoral college math enough to stop either from receiving the 270 votes needed to win the presidency.
According to Mak, if "the retired military officer could win several states won by President Obama in 2012, they might be able to block Clinton, thus forcing the incoming House of Representatives to make a decision on the next president of the United States." That's something that hasn't happened in nearly 200 years.
The most likely target would be Florida, where a Mattis victory over the 29 electoral votes could create a Trump-Clinton electoral scenario similar to something like this: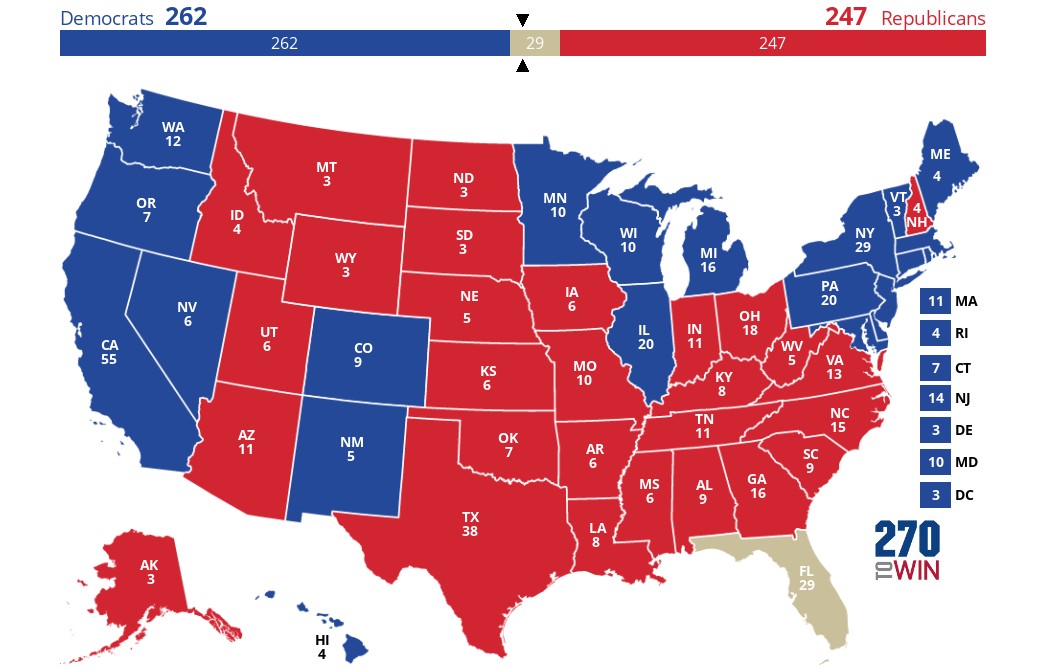 Click the map to create your own at
270toWin.com
Without 270 electoral votes, the House of Representatives would vote on the three possible candidates — which has only happened twice before, in 1800 and 1824.
The goal is that Mattis would be the compromise choice among the Republican-controlled House, who would install him in the White House.
Noted conservative commentator Eric Erickson and Weekly Standard editor Bill Kristol have weighed in on the possible run.
Kristol, speaking at a fundraiser for the Hoover Institute in February where Mattis is a visiting fellow, suggested that the retired four-star general could be conscripted into the race.
In April, Erickson weighed in on the possibility:
I'd vote for Mattis. https://t.co/oeLdUzh33u

— Erick Erickson (@EWErickson) April 4, 2016