Adult film star Stormy Daniels made headlines when she went on ABC's "The View" talk show and revealed a bizarre sketch of a man she claimed threatened her in a Las Vegas parking lot over an alleged sexual tryst with Donald Trump five years prior.
Critics point out that Daniels' story about the 2011 confrontation has changed repeatedly — just like her story about her unproven sexual encounters with Trump in 2006.
Sponsored: 93% of Americans Won't See What's in This 1944 German Photo
At first, Daniels claimed the man that supposedly confronted her in the parking lot was well dressed and seemed likeable, like a "family man."
Now, she claims he was wearing a hoodie and was a terrifying brute. And the sketch she released was even more bizarre.
Still, she has offered a $100,000 reward to anyone that can identify the neutral-looking sketch — and thanks to the internet, The Horn News believe we have identified him.
Internet users immediately erupted over the picture, which has been received with serious skepticism. Across social media, amusing theories on who the strange drawing shows have gone viral.
Sponsored: [Must See] Map Reveals Deadliest US States
Some claimed it showed New England Patriots quarterback Tom Brady —
Stormy Daniels sketch of man who threatened her in 2011…and Tom Brady in 2011. pic.twitter.com/oRCyDLVSSr

— Matt Viser (@mviser) April 17, 2018
Hillary's Crooked Slush Fund: Guess Where the Money Came From? [sponsored]
Some say it shows rock star Jon Bon Jovi —
I thought it was Jon Bonjovi https://t.co/BqNmpmMG4i pic.twitter.com/6R7TRV0hba

— Elle HG (@gentleLN) April 18, 2018
Sponsored: A simple finger exercise eliminates pain permanently
Others say it looks exactly Trump friend and former White House Communications Director Anthony Scaramucci —
The more I look at that sketch, the more I see a young Scaramucci. #IDtheThug @MichaelAvenatti pic.twitter.com/dyV0Uk7WIV

— Karen Hale ???? (@zuiderelle) April 17, 2018
Scaramucci himself even weighed in on the amusing debate —
I thought the description said he was 6' 2"! I am all good. https://t.co/SLuV118UUv

— Anthony Scaramucci (@Scaramucci) April 17, 2018
Alzheimer's virus found in 9 out of 10 seniors [sponsored]
Still other theories point to a host of Hollywood B-List celebrities like Kato Kaelin, Dolph Lundgren, and even the puppet from the 2004 comedy movie "Team America: World Police."
$100k reward to #IDTheThug. If I win drinks are on me. pic.twitter.com/QVqMhG4mx2

— Alt Jabroni (@alt_jabroni) April 17, 2018
Daniels story has been heavily criticized because of the ever-changing details — but the most eyebrow-raising detail is who the sketch resembles from her own life.
"I didn't want everyone to know, I didn't want my family to find out that way. I didn't want my life to turn upside down," Daniels said of the sketch, claiming she didn't tell her husband about the unproven 2011 encounter because she "didn't want him to think I was a bad mom or that I put our daughter in danger."
Sponsored: THIS common household device damages your eyesight
Who is Daniels' husband? Take a look for yourself.
Oops! This is awkward! @StormyDaniels's Ex ????#IDTheThug pic.twitter.com/GgLSxm2EJZ

— Deplorably????????????????????????????Scottish (@ShennaFoxMusic) April 18, 2018
Ladies and gentlemen, meet Stormy Daniel's husband: Glendon Crain —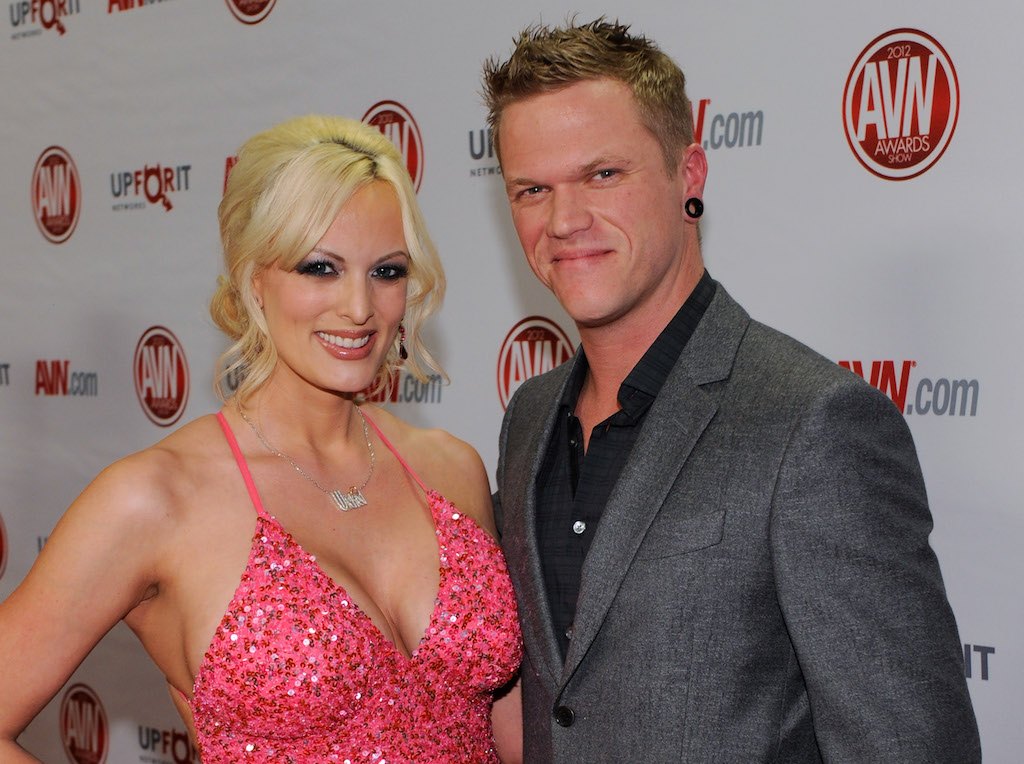 Does this win us the $100,000 reward?
— The Horn editorial team