It's the explosive picture that perfectly illustrates what American voters need to know about Massachusetts Sen. Elizabeth Warren.
The picture is the perfect summation of everything that's wrong with the Democratic Party. It's about their constant excuses, hypocrisy, victimhood, and, of course, lies.
Sponsored: PROOF Hillary belongs in jail (unbelievable!)
Originally shared on an online forum of President Donald Trump supporters on Reddit, the picture captures two politically-charged statements on the 2016 election by Warren — one from Oct. of last year, and another from Thursday of this week.
It was posted under the caption, "What a difference a year makes" by user moonpies4everyone.
What it contained is jaw-dropping.
Experts shocked as thousands try brand new bedtime routine…[Sponsored]
Take a look for yourself —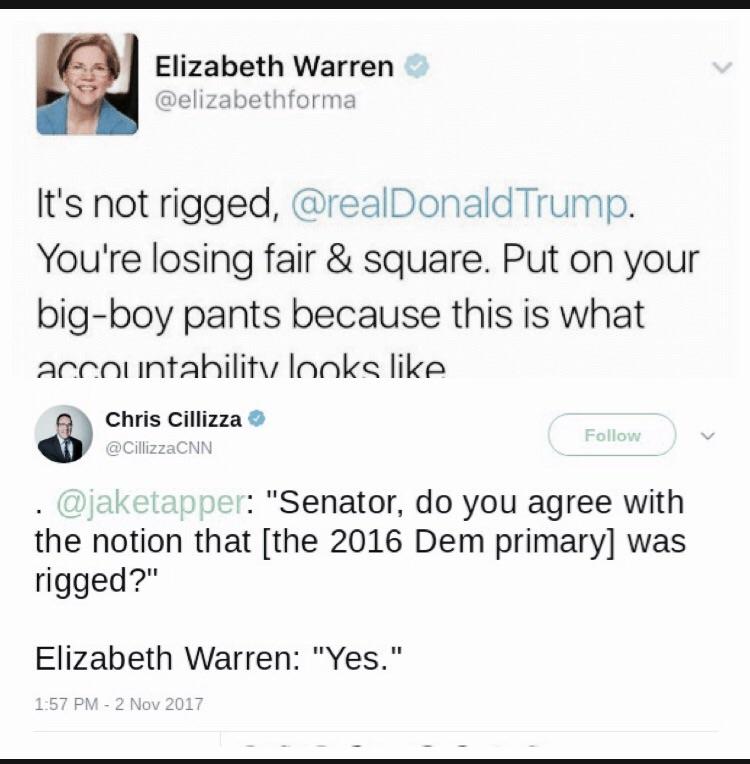 What a difference a year makes, indeed.
Sponsored: Strange "Second Bible" issues urgent warning for all Americans
The tone deaf hypocrisy is astounding — and it's everything voters need to know about Warren and her cronies.
All summed up in one simple picture.
Here's how Trump responded —
LEAKED: Hillary's "hit list" goes public [Sponsored]
Pocahontas just stated that the Democrats, lead by the legendary Crooked Hillary Clinton, rigged the Primaries! Lets go FBI & Justice Dept.

— Donald J. Trump (@realDonaldTrump) November 3, 2017
— The Horn editorial team