Protests against the police of Baltimore again disrupted the city yesterday when activists stormed City Hall and refused to leave.
Baltimore police disbanded an overnight occupation of City Hall by protesters who are opposed to moves to make the city's interim police commissioner permanent, and at least 12 people could be seen being led away early Thursday to police vehicles.
At least 25 police officers converged outside the building hours before dawn as activists was still inside from a protest sit-in that erupted Wednesday over numerous demands for better policing. Several of the demonstrators could be seen by an Associated Press reporter as they were led off in plastic handcuffs and loaded into transport vehicles.
Police said in a statement posted on their social media site that a small number of protesters had decided to leave after hours of warnings to the demonstrators.
"The remaining protesters refused to leave the building. As a direct result of their failure to comply, the remaining protesters have been arrested and charged with trespassing," the police statement added.
Police did not elaborate on the number of people arrested or their identities. A message left for Baltimore Police Department spokesman T.J. Smith wasn't immediately returned.
Some of those who had left before the arrests said mostly student activists. They said they opposed city deliberations to make permanent the interim appointment of Police Commissioner Kevin Davis, adding they had been given no chance for input and had several other demands.
Kwame Rose, an organizer who had been with the group for hours, said activists will continue opposing moves to permanently appoint Davis to the top police position.
"The politicians, they failed us today," Rose said of meetings Wednesday that kicked off deliberations on making Davis permanent in his post.
A City Council subcommittee voted to make Davis the permanent police commissioner. Davis still has to be approved by the full council.
Davis took the interim role in July after predecessor Anthony Batts was fired amid a spike in violent crime in Baltimore. The spike followed unrest and rioting in April after the death of Freddie Gray, a black man who died after suffering a severe injury in police custody.
Members of the Baltimore Uprising coalition, which includes both high school and community activists, had begun shouting from the upper gallery of City Council chambers as a Council subcommittee prepared for its vote Wednesday.
"All night, all day, we will fight for Freddie Gray!" the activists chanted amid calls to postpone the vote. "No justice, no peace!" The activists then began their sit-in.
The full council is to vote on the appointment Monday. If approved by the full council, Davis would earn $200,000 a year under a contract to run through June of 2020.
Three of the subcommittee's five members voted in favor of Davis. Councilman Nick Mosby, who is married to State's Attorney Marilyn Mosby, voted against the confirmation, while Carl Stokes, who is running for mayor, abstained.
Marilyn Mosby had decided to prosecute six officers in connection with Gray's death. All of the officers are currently awaiting trial. In the aftermath of Mosby's decision and the widespread unrest, homicides began to rise and residents in crime-addled neighborhoods accused police officers of abandoning their posts.
One of the demonstrators, Lawrence Brown, said the activists "really wanted to challenge the coronation process for commissioner Davis and ask some critical questions about how police have handled protests since he's been in charge, and other questions about fairness and equity around policing."
The protesters said they wanted Davis and Mayor Stephanie Rawlings-Blake to listen to their demands. Among them: that police avoid using military-type equipment such as armored vehicles, and only use riot gear as a last resort to protect officers.
In the interest of constitutional rights, the protesters said, they also want officers to always wear badges and name tags.
Addressing the council subcommittee Wednesday, Davis said that he remains committed to training officers to actively engage and interact with community members. Davis also emphasized his commitment to "respect and fight for the right for Americans to assemble and peacefully protest."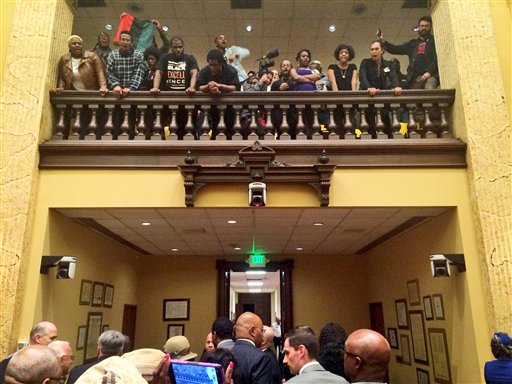 The Associated Press contributed to this story