Prince Charles says it is a "great joy" to be a grandfather once again, issuing a statement to express his pleasure with the arrival of a boy to the Duke and Duchess of Cambridge.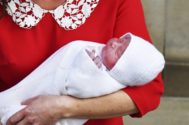 The 8-pound, 7-ounce (3.8 kilogram) boy was born Monday morning. The new prince is fifth in line to the throne and is a younger brother to 4-year-old Prince George and Princess Charlotte, who turns 3 next week.
Sponsored: [Must See] Anti-Trump celeb wants this video gone FOREVER

Charles said in a statement Tuesday that "it is a great joy to have another grandchild, the only trouble is I don't know how I am going to keep up with them."
The birth is being marked by bell ringing at Westminster Abbey and a gun salute in London's Hyde Park.
The Associated Press contributed to this article.