Florida Gov. Ron DeSantis has been enjoying a victory streak ever since he was credited with guiding the Sunshine State through the pandemic.
But some numbers have recently released that may give the fan favorite governor something to think about.
Hear what this Doctor has to say about coronavirus [Sponsored]
A widely discussed poll just dropped.
And the numbers don't look so hot for Gov. DeSantis.
According to a recent survey dropped by John McLaughlin — the 2024 primary poll sees DeSantis down big to former President Donald Trump.
The question was asked: "Thinking ahead to the 2024 Republican primary election for president, if that election today were held among the following candidates, for whom would you vote?"
Only nine percent said DeSantis.
Trump meanwhile, grabbed 55 percent of those surveyed.
Coronavirus vaccine mayhem is starting [Sponsored]
Undecided voters are down to seven percent.
For the record, critics are quick to point out that the poll from McLaughlin may be taken with a grain of salt — he most famously botched the polling for former House Majority Leader Eric Cantor, who lost big after polls showed him comfortably ahead in 2014.
So while the jury may still be out on the poll, the numbers show that it's not all bad news for DeSantis.
He may be down to Trump based on the numbers.
But he's beating everyone else so far when Trump is taken out of the equation.
Hot Air notes that he's been stealing support from Sen. Ted Cruz, R-Texas, after initially taking support from ex-Vice President Mike Pence and Donald Trump Jr.
Sponsored: Could Treatment "Undo" 60 Years Of Aging?
You can take a look at a screenshot of the numbers below, which measure the amount of percentage points in a column separated by the date the poll was conducted: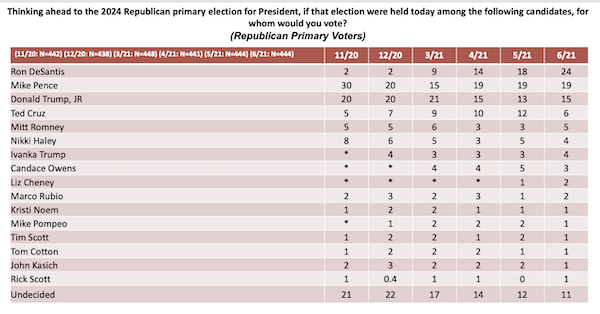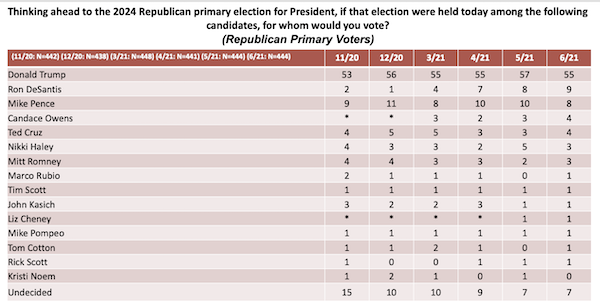 Early on when he was lesser known, DeSantis polled extraordinarily low, but has since clawed his way back.
In other words, he's the only other candidate who even comes close to Trump, who it seems will run again in all likelihood.
Sponsored: How to improve memory in 1 hour (Study Results inside!)
A fair share of political theories have been discussed, such as the possibility of DeSantis joining Trump as VP on the ticket, giving the GOP a solid 1-2 punch ahead of 2024.
But other media outlets have predicted that the ticket isn't big enough for the both of them — each a star conservative in their own right.
For what it's worth, however, DeSantis is swatting away any rumors that he and Trump are feuding.
But conservative voters will certainly keep their eye on what could be a clash at the very top.
Or not?
Perhaps the poll sticks and Trump runs away with the nomination.
The Horn editorial team