Missouri teen Michael Brown's controversial death made him a key figure in the debate over race relations with U.S. law enforcement, and in his memory family members sold memorial T-shirts and accepted hundreds of thousands in donations, in part to help with burial expenses.
But now questions are being raised about whether that money has so far been put to good use.
Fifteen months after his death, Brown, who was killed during a confrontation with a Ferguson police officer, lies under a cheap cement slab.
He is among the most notable residents of 160-year-old St. Peter's Cemetery, but there is no headstone marking his grave. Instead the burial plot — Section 10, Block F, Lot 12, Grave 4 — is visible only when gazing down at the slab simply spray-painted in orange with "MB."
In the weeks after Brown's death, hundreds of thousands of dollars were raised through fundraising websites to defray the family's funeral, burial, travel and living expenses.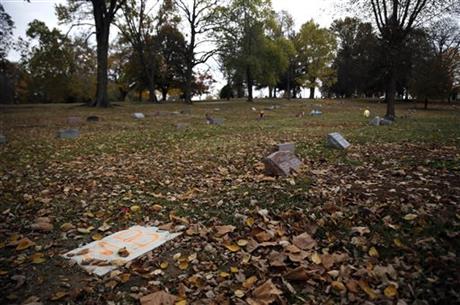 Brown's mother, Lesley McSpadden, was able to leverage community support to start the Michael O.D. Brown "We Love Our Sons & Daughters" Foundation in her son's memory. Lyah LeFlore, vice president of the foundation, said there are still plans for a more permanent marker for Brown's grave.
Exactly when those plans will come to fruition is anyone's guess.
"Everybody has to do things kind of at their own pace," LeFlore said of efforts to mark Brown's grave.
McSpadden and Brown's father have since filed a lawsuits against Ferguson, the St. Louis suburb's former police chief and Darren Wilson, the officer who shot and killed Brown during an August 2014 confrontation.
Brown's death revived long-simmering anger at police throughout the U.S., sparking violent riots and energizing the Black Lives Matter movement.
The Justice Department later cleared Wilson, concluding that evidence backed his claim that he shot Brown in self-defense after Brown tried to grab his gun during a struggle through the window of Wilson's police vehicle, then came toward him threateningly after briefly running away.
The Associated Press contributed to this story