"Oh, my God!" yelled witnesses as a London-bound airplane caught fire on a Las Vegas runway yesterday.  Passengers and crew quickly fled the blaze, and fourteen were injured in the accident.  But the incident could have been much worse had it not been for the orderly, calm leadership from the British flight crew and the quick response of American firefighters.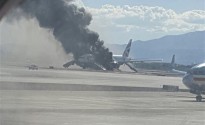 According to the Associated Press, the 157 passengers aboard British Airways Flight 2276 were settled into their seats for the 10-hour flight from Las Vegas to London when the aircraft's left side engine caught fire.
Those aboard quickly fled down emergency slides and across the tarmac as flames leaped from the British Airways Boeing 777-200 and dark black smoke billowed.
Reggie Bugmuncher, of Philadelphia, was charging her phone and waiting at a gate Tuesday for her flight from McCarran International Airport when she heard people saying, "Oh, my God!" She looked out and saw "bursts of flames coming out of the middle of the plane."
"Everyone ran to the windows and people were standing on their chairs, looking out, holding their breath with their hands over their mouths," Bugmuncher said.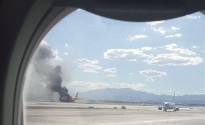 The plane's emergency slides deployed and passengers quickly fled. Thanks to the calm leadership from the British flight crew, no one panicked.  Bugmuncher said it was "more orderly" than she would have expected given the terrifying nature of the fire and smoke.
Firefighters stationed at the airport raced to the rescue, and reached the plane two minutes after getting reports of flames.  Another three minutes after their arrival, and everyone inside the plane had escaped.
After firefighters extinguished the flames, emergency vehicles could be seen surrounding the aircraft, which was left a sooty gray from the smoke and fire retardant.
Federal Aviation Administration spokesman Ian Gregor said the plane's left engine caught fire and an investigation was under way. The National Transportation Safety Board was collecting information about the incident, said Eric Weiss, a spokesman for the agency in Washington.
The Federal Aviation Administration delayed flights to Las Vegas from some airports for more than two hours after the fire to slow the flow of planes while the disabled Boeing 777 made two of the airport's four runways inaccessible.