CEO Heather Bresch has been under fire in recent days for the outrageous drug price hikes her company, Mylan, has announced for the life-saving allergy drugs, EpiPens.
Now her political connections are under fire as well.
Each EpiPen injection, which help stop potentially fatal allergic reactions, cost just under $60 in 2007. Now, they now run $609, an approximately 450% increase in price in nine years.
As of May 2011, the price was $165. That rose to $350 in 2014 and $461 last year. A chart posted by CNBC gives a visual indication on just how high that is.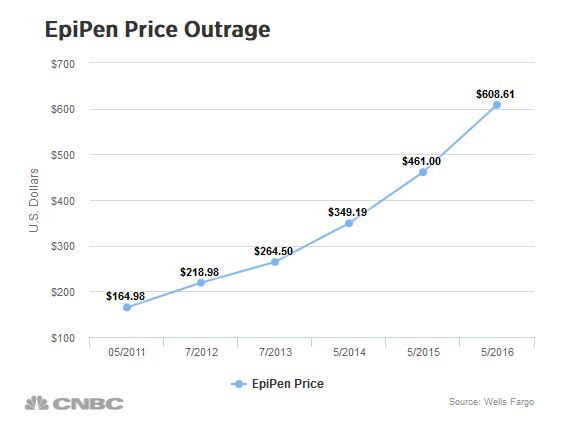 Stunning.
How did Bresch and Mylan get away with it? They got taxpayers to foot the bill.
Critics say Bresch, who is the well-connected daughter of West Virginia Sen. Joe Manchin, used lobbying efforts to get President Barack Obama to sign the School Access to Emergency Epinephrine Act, a move that financially pressured schools across the entire country to buy and maintain an annual emergency supply of epinephrine, the drug in EpiPens.
According to a White House press release in 2013, "The law makes an important change to the Children's Asthma Treatment Grants Program and other federal asthma programs, which authorizes the Department of Health and Human Services to give funding preferences to states for asthma-treatment grants if they: maintain an emergency supply of epinephrine (EpiPens), if they permit trained personnel of the school to administer epinephrine, and if they develop a plan for ensuring trained personnel are available to administer epinephrine during all hours of the school day."
In other words — A Democrat senator's daughter got Obama to divert taxpayer money to schools, if the schools promised to buy drugs from a company she ran, critics say.
Business as usual in Washington, D.C.
Where does it go from there? In both Bresch's and Democrat politician's pockets.
Bresch has seen her salary at Mylan go from $2.4 million in 2007 to an eye-popping $18.9 million last year, analysis by NBC showed.
And she's been busy with donations since, contributing chunks of cash to Obama's election campaign in 2008, to the West Virginia Democratic Party in 2010, and according to The Daily Caller, "Clinton Foundation records show that Mylan has donated between $100,000 and $250,000 to the Foundation."
Mylan — now in the crosshairs over the severe price hikes — announced today that it will expand programs that lower out-of-pocket costs by half… which is only double the drugs cost from five years ago.
Forgive us if we're not impressed.
— The Horn editorial team