by Stephen Dietrich
Recently, former Secretary of State Hillary Clinton pointed her finger at her political rival, billionaire Donald Trump, over his charity fund raising for veterans. She accused Trump of not raising as much money as he claimed he'd made for veterans
What Clinton conveniently failed to mention was that she had raised zero dollars herself for veterans, and hadn't donated to a veterans charity since 2012.
Undaunted by reality, the Clinton campaign paid a dozen veterans to stand outside Trump Tower with signs touting a made up group, "Veterans Against Trump," to rally media attention on whether he donated the proceeds of his January 28 fundraiser in Iowa to vets.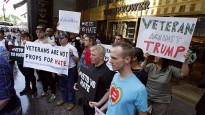 I am a veteran. And I find the practice of using my fellow veterans as political puppets to be despicable.
While veterans have our opinions and our political leanings — both left and right — I find it insulting and degrading to all those that served to bribe someone to speak on our behalf.
The vast majority of my fellow veterans agree. According to a poll by Morning Consult, veterans picked Clinton dead last when compared to both Trump and Vermont Sen. Bernie Sanders.
The Horn News reported last Wednesday, in that one evening in Iowa Trump raised over 50 times the amount of money for veterans than Clinton had in years.
Clinton has horded a massive fortune — over $110 million according to some estimates — from lucrative Wall Street speaking tours and book deals in the past few decades. During that time, she's given little to the veterans she now claims to value.
All of that's okay. Really, it is.
I'm a firm believer in the free market. In my opinion, Clinton can do with her money whatever she likes. It's her money, it's not my business.
But don't spit on my shoes and tell me it's raining.
Clinton has insulted the intelligence of the entire voting public by insisting she cares for veterans now that it's politically convenient.
Clinton had years decades to organize her fellow Democrats to help fix the debacle of Veteran Affairs office. She has had ample opportunity to reach out to veterans groups for fundraisers or goodwill efforts. She consistently declined to do so.
Then, when it is politically convenient, Clinton cuts a check for a dozen or so veterans to dance around for her and wave signs for an invented group, "Veterans Against Trump"?
The Clinton campaign's behavior at the Trump Tower crossed the line.
Veterans are not mindless catchphrases. We're not puppets whose strings are there to pull when one wants to make a political point.
Using veterans as squeak toys to attract media attack dogs is disgusting and unacceptable. Clinton ought to be ashamed.
Where was her support when soldiers came back from the Iraq War — which Clinton voted for — mangled and scarred and unable to walk?
Where was this outpouring of care from Clinton when veterans were dying in line waiting for the VA to give them the care they'd earned?
It wasn't there.
So my support isn't there now for Clinton.
It is my hope that others agree.
I'm calling on my fellow veterans to wade into the political arena. Not for one candidate or another. I don't care if you support Republican Donald Trump, Libertarian Gary Johnson, Democratic socialist Bernie Sanders, or Kermit J. Frog for president.
As long as you recognize how disastrous a Clinton presidency would be for America — and for veterans — I invite you to stand with me as a "Veteran Against Clinton."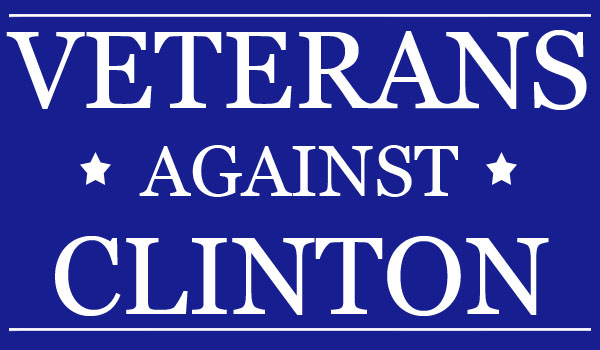 — Stephen Dietrich is the Managing Editor of The Horn News. He served in the U.S. Army and is a veteran of Operation Iraqi Freedom.