They're calling it a once-in-a-thousand-years flood, and it's hit the state hard. Hundreds were rescued from fast-moving floodwaters Sunday in South Carolina as days of driving rain hit a dangerous crescendo that buckled buildings and roads, closed a major East Coast interstate route and threatened the drinking water supply for the capital city. At least eight casualties have been reported, and according to social media posts, the rain is so bad some coffins are starting to surface.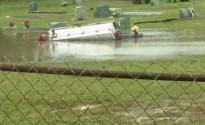 The powerful rainstorm dumped more than a foot of rain overnight on Columbia, swamping hundreds of businesses and homes. Emergency workers waded into waist-deep water to help people trapped in cars, dozens of boats fanned out to rescue others in flooded neighborhoods and some were plucked from rooftops by helicopters. More door-to-door search operations are planned Monday.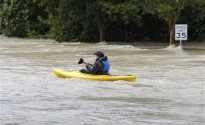 With so much water, officials said it could take weeks or even months to assess every road and bridge that's been closed around the state. Several interstates around Columbia were closed, and so was a 75-mile stretch of Interstate 95 that is a key route connecting Miami to Washington, D.C. and New York.
"This is different than a hurricane because it is water, it is slow moving and it is sitting. We can't just move the water out," Gov. Nikki Haley said at a news conference.
She also warned it wasn't over yet as rain kept falling into the night around the Carolinas.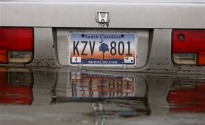 The system drenching South Carolina was part of an unusual combination of weather conditions involving a slow-crawling low pressure system meteorologists called unusually deep for this time of year.
People were told to stay off roads and remain indoors until floodwaters recede, and an overnight curfew was issued for Columbia and across two surrounding counties. The capital city told all 375,000 of its water customers to boil water before drinking because of water line breaks and the threat of rising water to a treatment plant. Emergency officials said later Sunday that many in Columbia were without potable water because of water main breaks and customers may have to go without drinking water for three or four days. Meanwhile, nearly 30,000 customers were without power at one point.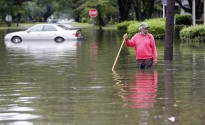 Local officials counted several hundred water rescues by mid-morning before Columbia Fire Chief Aubry Jenkins said in an interview that there were too many rescues to keep count.
"We're just trying to get to everyone," Jenkins said. "But there are places we just haven't gotten to."
Columbia Police Chief William Holbrook said door-to-door search and rescue operations by police, firefighters and other emergency responders would continue Monday. Anyone still needing to get to safety was urged to call 911 and military vehicles were being lined up to take people to safety.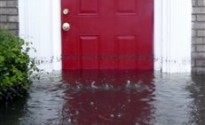 "The operation will also include overall welfare checks," he said of Monday's "concentrated" operation, adding crews will mark the front doors of homes with a bright fluorescent orange 'X' once they have been searched.
One of the hardest hit areas in Columbia was near Gills Creek, where a weather station recorded more than 18 inches of rain — or more than a third of the city's average yearly rainfall — nearly all of it in 24 hours. The creek was 10 feet above flood stage, spilling floodwaters that almost reached the stoplights at a four-lane intersection.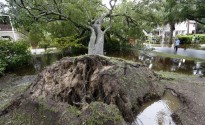 State forecasters said another 2-6 inches could fall around the state, and it could be Tuesday before skies are sunny.
Vladimir Gorrin said he led his 57-year-old aunt through floodwaters about 7 feet deep surrounding her apartment near Gills Creek. He said his aunt, Wanda Laboy, waited several hours after calling 911, so family came to help.
"She's very distressed right now," said Gorrin, 38. "She lost everything."
His aunt, who didn't appear to be injured, was heading with her nephew to his house in an unflooded area of Columbia, he said.
"I'm trying to find my way back home, and every road that we've taken is blocked or flooded," he said in a phone interview.
Emergency shelters were being opened around the state for displaced residents, a state of emergency has been declared in South Carolina.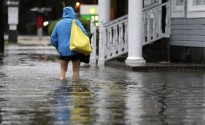 Charleston Mayor Joe Riley said he's never seen flooding as bad in his 40 years as mayor.
"This was a record storm," he said. "You know the amount of rainfall that we have experienced is unprecedented. I feel very fortunate that we were able to get through this as well as we have."
The latest death reported was a woman killed when her SUV was swept into flood waters in Columbia. Richland County Coroner Gary Watts said the woman's body was found Sunday afternoon, about 12 hours after she disappeared in flood waters near downtown Columbia.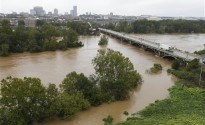 Three people died in separate weather-related traffic accidents in South Carolina on Friday and Saturday, the Highway Patrol said. In North Carolina, a driver died on a rain-slickened road on Saturday, according to that state's Highway Patrol. On Thursday, a woman drowned in her car in Spartanburg, South Carolina, while a passenger in a vehicle in North Carolina was killed when a tree fell on a highway.
In Florence, about 80 miles east of Columbia, Mary Gainey was told Sunday about an evacuation order for her neighborhood along a rising creek. "I've been rushing around, making sure I have everything I need," said the 65-year-old Gainey.
She's going to stay at her daughter's house until the water recedes.
"This is the first time we've had to be evacuated," she said. "It's strange leaving everything behind."
Officials were imposing a 12-hour curfew across Richland and Lexington counties.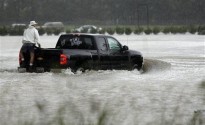 Richland County Sheriff Leon Lott called it a common-sense curfew. Anyone not facing an emergency situation needs to stay off the roads until 6 a.m. Monday. He says law enforcement officers "will stop you and make you go home or somewhere else." He stresses that "this is not a time for anybody to be a spectator."
Columbia Mayor Steve Benjamin says anyone who doesn't take the flooding seriously risks not only their lives, but the lives of first responders. He says flooding levels are difficult enough to judge in the daytime.
Other cities across the Midlands have also issued curfews. Sumter has announced a curfew starting at 7 p.m. Sunday until 7 a.m. Monday.
Several schools and colleges, including the University of South Carolina, canceled classes Monday and some busineses planned to remained closed.
The Associated Press contributed to this article