3,062.
The Republican Party in Nevada is claiming that 3,062 instances of voter fraud have occurred in the battleground state as the counts continue to flood from Tuesday's election.
The party's lawyers have officially sent Attorney General William Barr a criminal referral on the heels of President Donald Trump's claims that the race has been rife with illegal ballots and voter fraud.
QUIZ: Which 1 Out Of THESE 3 Alcoholic Drinks Should You Drink? [sponsored]
Our lawyers just sent a criminal referral to AG Barr regarding at least 3,062 instances of voter fraud. We expect that number to grow substantially. Thousands of individuals have been identified who appear to have violated the law by casting ballots after they moved from NV.

— Nevada GOP (@NVGOP) November 6, 2020
The Silver State has been under scrutiny since Tuesday's election, as the state's ballot results trickle out slowly.
The Nevada GOP's effort serves the interest of the president, who addressed the nation Thursday and attacked the confidence in the electoral voting system.
Fall asleep in 8 mins flat!? Try THIS crazy trick [Sponsored]
The press conference followed rumors of isolated instances of fraud. The Trump team will focus on the courts in an effort to bring cases of mass voter fraud to the judges.
This — as critics have noted — will take evidence.
The Nevada GOP took to Twitter to release alleged evidence —
NV ballots for kids?
4 MAIL votes cast in Washoe Co by people UNDER-18! 1 Dem & 3 NP

Father of a 17 yo who registered & received ballot thankfully contacted county re: his ineligibility…

The Radical Left dreams to lower voting age but… they can't legally vote! pic.twitter.com/PAuUyzgj5D

— Nevada GOP (@NVGOP) November 6, 2020
The party also compiled an alleged laundry list of Nevada voters who were disenfranchised. Some names they used were reduced to initials, likely for privacy purposes.
Sponsored: Can you guess which food holds the secret to better blood pressure?
Media- Calif. transplant Steven Findley was told by @ClarkCountyNV staff that he needed NV ID to vote & was directed to the DMV, which would not give him an appointment. He was not allowed to vote. Report #2123 pic.twitter.com/HLMv4W0iVA

— Nevada GOP (@NVGOP) November 5, 2020
J.C. tried voting early & knew he had the right to vote provisionally, but a @ClarkCountyNV worker demanded NV ID. DMV gave him the runaround, & he saw several voters experiencing the same. Was again blocked from voting provisionally when revisiting the poll site. @ClarkCountyNV

— Nevada GOP (@NVGOP) November 5, 2020
J.S. showed up to vote in person and was told she already voted by mail with her signature verified. But, she never received a mail-in ballot & never cast that vote. Report #1010

— Nevada GOP (@NVGOP) November 5, 2020
Sponsored: Deadliest Drug Ever (are you taking it?)
It remains to be seen whether or not Barr will investigate.
You can read the letter sent by Nevada GOP lawyers to Barr below: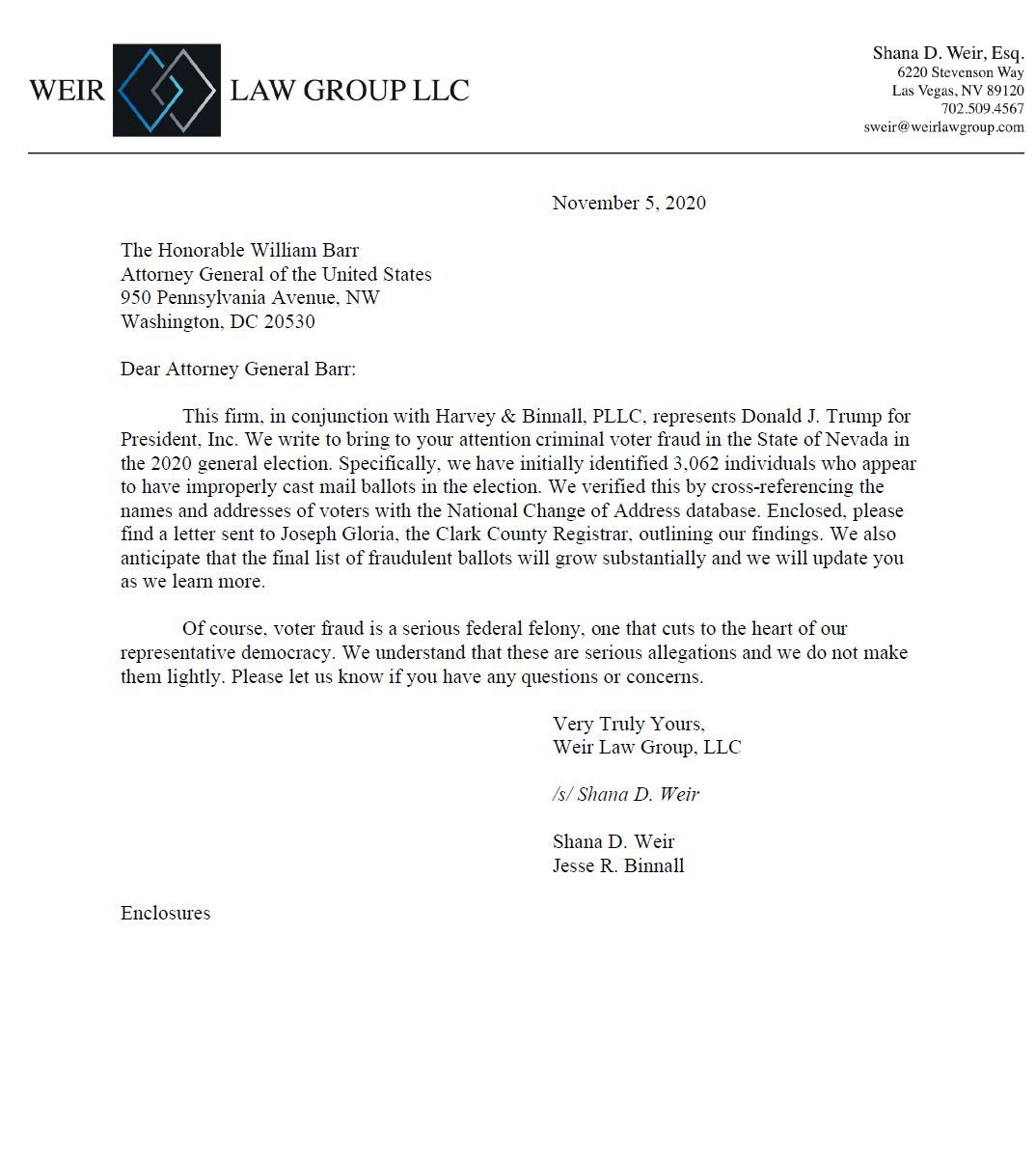 The Horn editorial team