House Minority Leader Nancy Pelosi spent the weekend spreading nasty lies to American voters as part of an elaborate political cashgrab — and the mainstream media hasn't said a word.
Pelosi and the official fundraising arm of House Democrats, the Democratic Congressional Campaign Committee (DCCC), deliberately used half-truths and misinformation to rile up supporters — and then asked for cash.
Sponsored: Leaked video from Hillary's past comes back to haunt her
"I will NOT allow Putin to set foot in the United States. I need 50,000 signatures to BLOCK his visit and keep our elections safe. I need you to sign before midnight," Pelosi promised in a DCCC fundraising email on Saturday.
On Sunday, Pelosi and the DCCC sent a nearly identical email to supporters… except they said they now needed 100,000 signatures.
However, no amount of petition signatures will stop Putin from visiting the United States at President Donald Trump's invitation. As a career politician, Pelosi knows that. She doesn't make U.S. foreign policy, and has no authority to stop foreign leaders from visiting at the president's invitation.
"The House Democrats reportedly also sent out a covert fundraising petition on Sunday, claiming that the DCCC is nearing its goal of 1.2 million signatures to 'ensure protection' for Special Counsel Robert Mueller who's investigating the alleged collusion between the Kremlin and the Trump campaign," Fox News reported.
Feel 20 Years Younger With This Pain God-Send [sponsored]
So why lie to supporters?
Once a subscriber "signs" her email, they're sent to a page asking for a donation to help Pelosi and her political allies get reelected.
In other words, it's a cash grab to help Pelosi keep her job.
Take a look for yourself. Here are screenshots of the emails send Saturday and Sunday, The Daily Caller reported.
Sponsored: The unpublished Bible secret that no documentary will touch…
Saturday's email —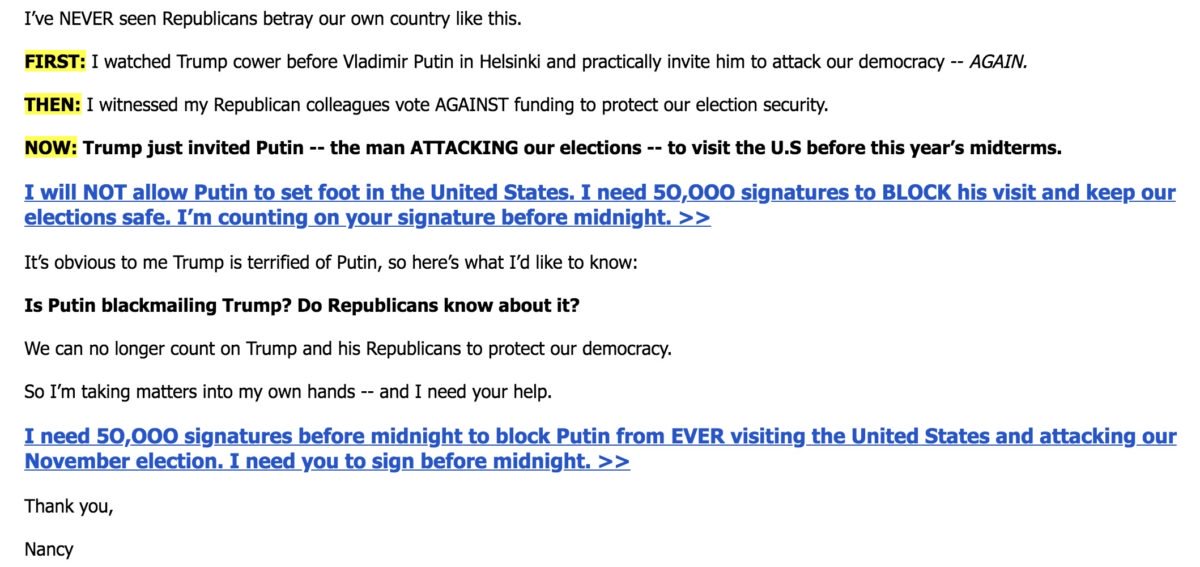 Sunday's email —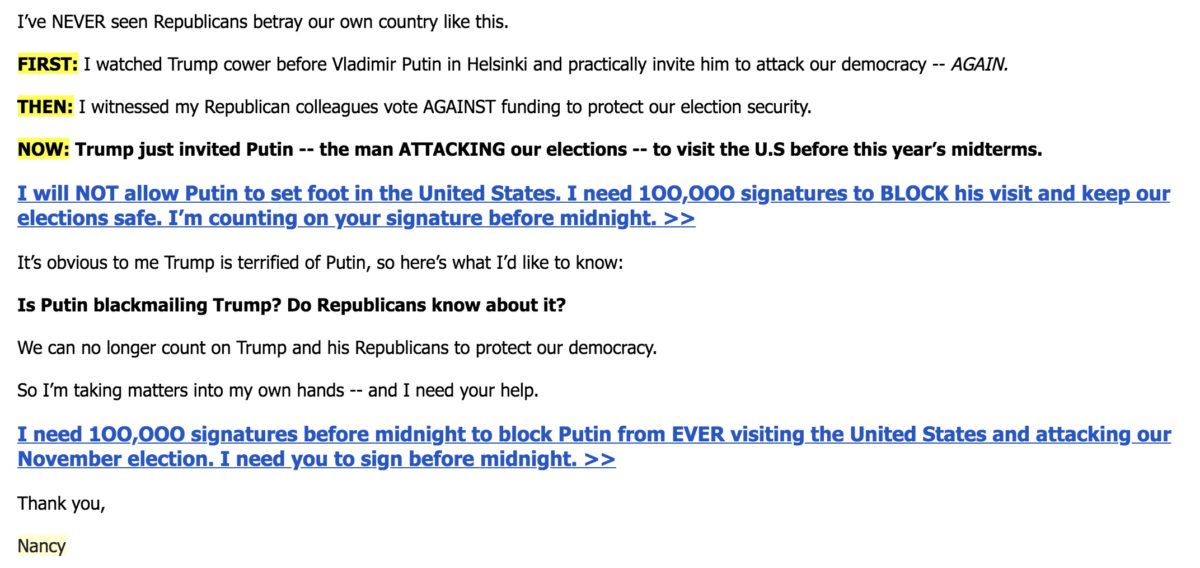 Politically fundraising is nothing new, of course.
[Health Alert] Popular Cracker Labeled "Deadly" [sponsored]
But deliberately lying to voters and trying to scare them into coughing up cash?
That's low… even for Pelosi.