Kara McCullough is an accomplished woman. Sunday, the 25-years-old scientist from Washington, D.C. was crowned Miss USA at the Mandalay Bay Convention Center in Las Vegas.
But it's not her intelligence nor her beauty the media is focused on.
Sponsored: What's suddenly killing America's Seniors?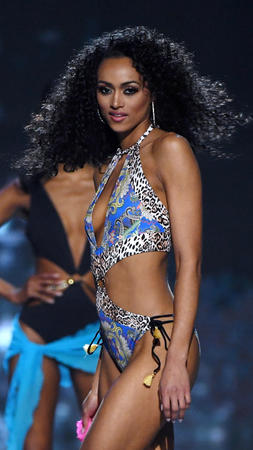 McCullough broke the mold and gave non-liberal answers to the beauty pageant's questions — and it left liberals very, very upset.
During the pageant's question-and-answer round, McCullough slammed Obamacare by calling healthcare a "privilege" for U.S. citizens, not a right.
"As a government employee, I'm granted healthcare and I see firsthand that for one to have healthcare, you need to have jobs," McCullough said. She is currently employed as a chemist at the U.S. Nuclear Regulatory Commission.
Later in the competition, the top three finalists were asked to explain what they consider feminism to be and whether they consider themselves feminists. McCollough said she likes to "transpose" the word feminism to "equalism."
Sponsored: Trump EMBARRASSES Hillary (again)…
"I don't want to call myself a feminist," McCollough told the judges. "Women, we are just as equal as men, especially in the workplace."
On social media, Twitter erupted in a firestorm of liberal anger over her comments.
It's always funny when dumb broads try to sound smart #MissDC

— Thomas McDonald (@TommyMacDee) May 15, 2017
DC just disqualified herself with that answer #MissUSA

— Keeni Rodgers (@keeniz__) May 15, 2017
The backlash against McCullough, an accomplished woman of color, gives a glimpse into the nastiness of liberal's so-called "tolerance."
Watch this doctor prove leftists elites DEAD WRONG [sponsored]
In response, conservatives rushed to her defense.
Miss USA is a wonderful role model! Leave it to the nasty, sneering left to attack her b/c she doesn't fit their narrative. @foxandfriends pic.twitter.com/CFmVdivTke

— Kristin Tate (@KristinBTate) May 15, 2017
Of course, McCullough quickly — and gracefully — rose above the controversy.
"I'm extremely thankful for this opportunity," McCullough said after her win. "I just want to encourage so many women nationwide to find their passion in any subject possible and understand that nothing is difficult if you really, truly put the work in for it."
Sponsored: Could this miracle bring America back to God?
The runner-up was Miss New Jersey Chhavi Verg, a student at Rutgers University studying marketing and Spanish. The second runner-up was Miss Minnesota Meridith Gould, who is studying apparel retail merchandising at the University of Minnesota.
Fifty-one women representing each state and the nation's capital participated in the decades-old competition.
Sponsored: Strange book predicts the future of America (and it's not pretty)
McCullough was born in Naples, Italy, and raised in Virginia Beach, Virginia. She said she wants to inspire children to pursue careers in the fields of science, technology, engineering and mathematics.
Comment "#MissUSA Amen!" below if YOU support Kara McCullough
— The Associated Press contributed to this article