First lady Melania Trump in a wide-brimmed white hat, and stilettos strolled through National Gallery of Art's exhibit of about 60 portraits by the French post-impressionist painter.
A pair of designers is responsible for Melania Trump's white skirt suit and matching hat.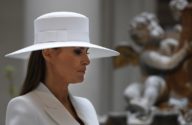 The first lady's office says Michael Kors designed the two-piece suit that Mrs. Trump wore for Tuesday's White House arrival ceremony for President Emmanuel Macron of France and his wife, Brigitte.
Sponsored: "No pill" trick to relieving your arthritis pain
Mrs. Trump also wore the suit on an outing to the National Gallery of Art in Washington with Mrs. Macron.
The first lady topped her outfit with a broad-brimmed white hat designed by Herve Pierre. Pierre designed the first lady's inaugural ball gown.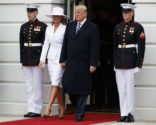 The white hat quickly became the talk of the town, as well as on Twitter. Mrs. Trump typically doesn't wear hats.
Still to come is Tuesday night's piece de resistance: the first lady's state dinner gown.
Sponsored: Man Complaining of Headaches Had Shocking Object Inside His Head
The Associated Press contributed to this article.