U.S. first lady Melania Trump attended a violin and piano concert at a top music academy near the Belgian capital on Wednesday along with other spouses and partners of world leaders attending a NATO summit.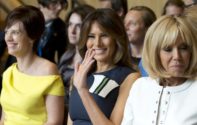 Mrs. Trump, who joined President Donald Trump on a weeklong trip to Europe, and 10 other spouses were given a tour of the Queen Elisabeth Music Chapel in Waterloo, near Brussels, before the concert.
They also viewed an exhibit of hats by Belgian designer Fabienne Delvigne and were offered delicacies created by Herman Van Dender, a pastry maker and chocolatier who is the official supplier to the Belgian royal house.
Sponsored: PERFECT cholesterol – starting in 2 weeks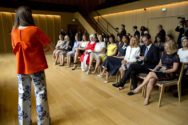 Mrs. Trump, 48, wore a navy blue sleeveless Calvin Klein calf-length dress with white and green detail on one collarbone and white Christian Louboutin heels with their trademark red soles. Klein is an all-American fashion house but its chief creative officer, Raf Simons, is Belgian.
The trip marked the former model's return to the international stage after she dropped out of public sight in May for nearly a month, including five days in the hospital following surgery for a benign kidney condition. Her husband later told reporters that she had had a "big operation" and was under doctors' orders not to fly for a month. Her office clarified that only international travel was forbidden for that period of time, and the first lady did not accompany the president to Canada for an earlier world leaders' summit or to Singapore for his historic one-on-one meeting with North Korean leader Kim Jong Un, both in the first half of June.
Upon arrival at the conservatory, the spouses were greeted by Amelie Derbaudrenghien, the partner of Belgian Prime Minister Charles Michel, and Ingrid Schulerud, the wife of NATO Secretary-General Jens Stoltenberg.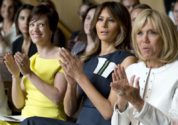 They were then escorted into a music auditorium with tall glass windows offering views into a forest behind the school for performances of Tchaikovsky's Valse Scherzo and other pieces.
The non-drug, energy secret the Russians were REALLY using [sponsored]
Mrs. Trump sat between Brigitte Macron, the French first lady who was dressed in white, and Derbaudrenghien, in vibrant yellow, during the concert. Other participating first ladies included Emine Erdogan of Turkey and Mojca Stropnik of Slovenia, Mrs. Trump's native country.
At one point during the concert of music by Hubay, Tchaikovsky and Piazzolla, Mrs. Trump and some of the others applauded prematurely. Catching themselves, they smiled and kept on listening.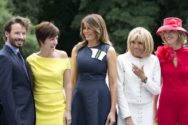 Trump and his wife were expected to attend a dinner Wednesday at the Art & History Museum overlooking a large park, the Parc du Cinquantenaire.
Belgium, the host country, and NATO, which is headquartered in Brussels, are the formal hosts of the two-day event.
Sponsored: Drive-thru snack improves cholesterol 75% (proof inside)
The Queen Elisabeth Music Chapel is a training center for gifted young musicians housed in a modernistic glass building in the middle of a park outside of Brussels, where the summit is taking place.
The Associated Press contributed to this article.