A tour boat accident has drawn renewed attention to Hawaii's Kilauea volcano, but for Big Island residents the erupting lava has been an ever-present force for more than two months.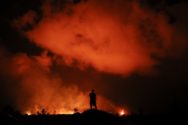 Molten rock is blasting from one last eruption site, a large cinder cone in a hard-hit neighborhood where new volcanic cracks first opened May 3. It's sending huge volumes of lava snaking to the ocean miles away.
An estimated 700 homes have been destroyed, more than 500 of those in just two days, and thousands of people have been displaced. One man was injured in the weeks after the eruption began, and another 23 people were hurt Monday when lava entering the ocean exploded onto a tour boat.
Sponsored: PERFECT SLEEP—ON DEMAND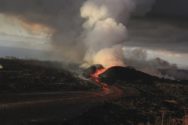 The lava has covered more than 11 square miles (28 square kilometers) of land, vaporized the state's largest freshwater lake and filled an entire ocean bay, turning it into a mile (1.6 kilometers) of burnt, rocky ground. Steam and gas could be seen pouring from a new, very small island that formed near the flows on Friday.
The collapse of the Kilauea summit crater also continues, with large explosions and strong earthquakes occurring almost daily.
The Associated Press contributed to this article.