If they carry out their plans, it would be the Islamic State's most barbaric act yet in their bloody war against Christians.
The terror group is rumored to be torturing a kidnapped Jesuit priest, and are plotting to crucify him tomorrow, on Good Friday.
The Franciscan Sisters of Siessen are asking Christians around the world to pray for Father Tom Uzhunnalil, who they say was kidnapped by ISIS during a massacre at a Christian retirement home in Yemen that claimed 16 lives — including those of four nuns.
The sisters' plea for mercy and prayers has gone viral on Facebook, with hundreds of thousands of comments and shares in support.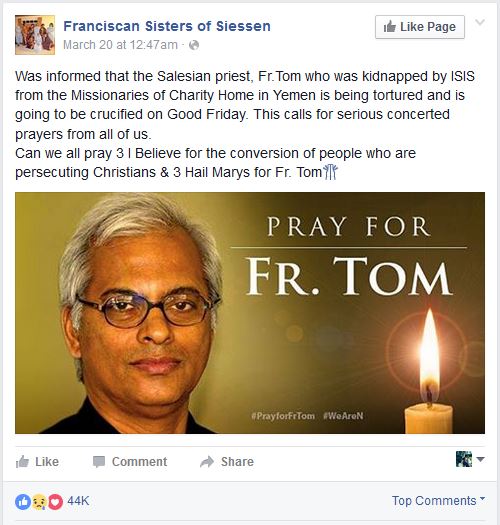 Members of Fr. Tom's order, the Salesian Christians in Bangalore, India, say they can not confirm the reports, which they call rumors at this point.
Fr. Tom's kidnapping by ISIS was reported by the sole surviving nun of the Aden, Yemen massacre.
The nun — identified as Sister Sally — gave a graphic description of the slaughter of innocent seniors and their Christian caregivers, and said neighbors reported Fr. Tom being taken by the terrorists after the attack.
The Horn News first reported about Yemen nursing home massacre on March 4.