On Thursday, amid the rapidly swelling war in Ukraine, Biden spoke with international allies, his national security team, and even some American citizens.
He then announced a new round of sanctions targeting Russia after its unprovoked invasion, charging that Russian leader Vladimir Putin "chose this war" and that his country will bear the consequences of his action.
Urgent: Common prescription drug now linked to Alzheimer's? [Sponsored]
New sanctions target Russian banks, oligarchs, and high-tech sectors, Biden said. The United States and its allies will block assets of four large Russian banks, impose export controls and sanction oligarchs.
Biden also said the U.S. will be deploying additional forces to Germany to bolster NATO after the invasion of Ukraine, which is not a member of the defense organization.
The penalties fall in line with the White House's insistence that it would look to hit Russia's financial system and Putin's inner circle, while also imposing export controls that would aim to starve Russia's industries and military of U.S. semiconductors and other high-tech products.
"Putin is the aggressor," Biden said. "Putin chose this war, and now he and his country will bear the consequences."
Critics said Biden held off imposing some of the most severe sanctions, including cutting Russia out of the Society for Worldwide Interbank Financial Telecommunication (SWIFT), which allows for the transfers of money from bank to bank around the globe. Biden also did not target Russia's energy sector.
Biden announced the sanctions while Ukraine's government reported mounting casualties as Russian forces attack from the east, north, and south.
Sponsored: The one food you should NEVER put on your dinner plate
Not everyone was pleased with Biden's announcement.
Despite Biden's description of the sanctions as severe, Ukrainian officials urged the U.S. and West to go further and cut the Russians from the SWIFT financial system.
"We demand the disconnection of Russia from SWIFT, the introduction of a no-fly zone over Ukraine and other effective steps to stop the aggressor," Ukraine President Volodymyr Zelenskyy said in a tweet.
The Biden administration, however, has shown some reluctance to cut Russia from SWIFT, at least immediately, because of concerns the move could also have enormous ramifications for Europe and other Western economies. Biden, answering questions from reporters, appeared to push a decision on SWIFT to European allies.
"It is always an option but right now that's not the position that the rest of Europe wishes to take," Biden said. He also contended that the financial sanctions he announced would be more damaging to Russia.
Biden has also faced criticism from his own party. On Fox News, former Rep. Tulsi Gabbard, D-Hawaii, urged Biden to say that Ukraine will not join NATO — what some say would be a capitulation to Putin's aggression.
Sponsored: New Formula Starts Relieving Arthritis Pain On Contact
NATO can only expand "by unanimous agreement," according to Article 10 of the organization's founding document. Some European countries have become dependent on Russia's natural gas, and so they may reject Ukraine's application to join NATO for fear of angering Russia.
Germany, in particular, has been sending mixed signals about whether or not to reject Ukraine from NATO. Germany closed its last nuclear power plant recently, inviting Russian influence. Plus, on Feb. 14, German Chancellor Olaf Scholz denied any possibility of Ukraine joining NATO. However, Germany recently canceled a gas pipeline from Russia since then, at the request of Biden.
As part of the invasion, Russia launched cyberattacks against Ukrainian state websites and affiliated organizations on Thursday, as officials had long expected Russia to do.
These including data-wiping malware activated a day earlier that cybersecurity researchers said infected hundreds of computers including in neighboring Latvia and Lithuania.
Researchers said the malware attack had apparently been in preparation for as much as three months.
Sponsored: The TRUTH about your tinnitus
In fact, a distributed-denial-of-service attack that began last week and temporarily knocked government websites offline Wednesday continued and there were sporadic internet outages across the country, said Doug Madory, director of internet analysis for the U.S. network management firm Kentik Inc.
Measures to blunt the DDoS attacks were having some success, however, as major government websites including those of the defense and interior ministries were reachable Thursday. U.S. and allied governments quickly blamed the denial-of-service attacks on Russia's GRU military intelligence agency after they began last week. Such attacks render websites unreachable by flooding them with junk data.
Major Russian websites also came under a denial-of-service attack on Thursday, Madory said, possibly in retaliation for the similar DDoS attacks on Ukrainian websites.
All the while, Russia's military has been conducting airstrikes in Ukraine, and the cyberattacks contributed to widespread confusion in Ukraine.
Take a look —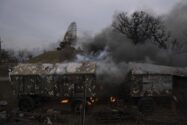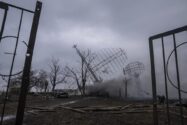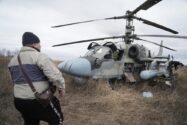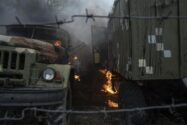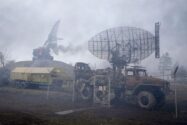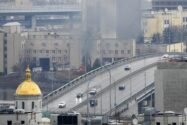 The Horn News and The Associated Press contributed to this article.