It's not a story you'll hear from the mainstream media, but the information is straight from their own polls.
And it destroys the liberal narrative.
Recent polling suggests there's a November surprise coming for Democrats.
Republican presidential candidate Donald Trump is going to be elected… thanks to African American voters.
Sorry liberals, but it's your own polls that prove it: Democratic presidential candidate Hillary Clinton cannot win without rigging the election.
Recent data released by The Washington Post, Rasmussen, and CNN all show Trump winning over minority voters at a surprising pace.
In fact, he's on pace to win the GOP its largest share of black votes in over 50 years.
Why haven't you heard this before? It could be that the mainstream media is overlooking it. It could be that they're simply oversampling pro-Democratic groups.
---
Sponsored: Was The 2016 Election Winner Decided All The Way Back In 1993?
It sounds like a movie plot — but IT'S TRUE.
A Hillary Clinton whistleblower just released this confession, and exposed the biggest skeleton in her closet. (Warning: It's downright disturbing.)
Watch it now — before she sinks her claws in the video and erases it from the web.
---
It could be because liberals assume that black voters will do what they're told – and because this information runs so counter to the mainstream media's narrative, the pollsters haven't even bothered looking for this shocking shift.
It could simply be that these pollsters are crooked and don't want the information out there.
No matter the reason it's being ignored, here's the fact: It exists.
It's right there, clear as day, if anyone bothers to look. And it's going to shake-up the entire 2016 election.
Compared to previous Republican candidates, Trump has a HUGE share of minority support… and it's growing.
Should this trend continue, it won't just be a victory for the Republicans.
It will be a Trump landslide.
The Washington Post reported on the trend on October 16th, but ignored the mathematical significance. "Clinton has a solid lead with black and Hispanic voters. She holds a 79-point lead among African American voters in combined September and October polls. That is similar to earlier polling, but smaller than Obama's 86-point margin among this group in 2012. Clinton holds a 28-point lead among Hispanic voters in combined polls – a group Obama won by 44 points in 2012," The Post said.
So Trump is losing minorities. That's no surprise.
But the hidden story is: By how much?
Trump doesn't have to win these voting groups. He only has to do better than former GOP candidate Mitt Romney performed in 2012, while maintaining Republican support elsewhere.
And Trump is doing a FAR better job compared Romney connecting with minorities. According to pollster, the numbers have continued to increase favorably for Trump in the past month.
Black Likely Voters for TRUMP @Rasmussen_Poll
Oct 3 – 9%
Oct 6 – 12%
Oct 7 – 13%
Oct 10 – 14%
Oct 11 – 19%
Oct 12 – 19%
Oct 13 – 24% !

— Ted Carroll (@mediainvestors) October 13, 2016
Black Likely Voters for TRUMP @Rasmussen_Poll
Oct 17 – 17%
Oct 18 – 19%
Oct 19 – 18%
Oct 20 – 15%
Oct 21 – 16%
Oct 24 – 15%
Oct 25 – 16%

— Ted Carroll (@mediainvestors) October 25, 2016
In fact, Trump has more than twice the support among black voters compared to what the GOP received in 2012, and has 1.5 times the support among Hispanic voters, according to CNN polls.
What does that mean for this election?
It's very bad news for Clinton.
Should Trump maintain Romney's share of the 2012 vote elsewhere, but he successfully increases the GOP's share to approximately 20 percent of black and 35 percent of Hispanic votes in battleground states — exactly what polling trends suggest he's doing — a quick number crunch shows the electoral map on Nov 8 looks like this —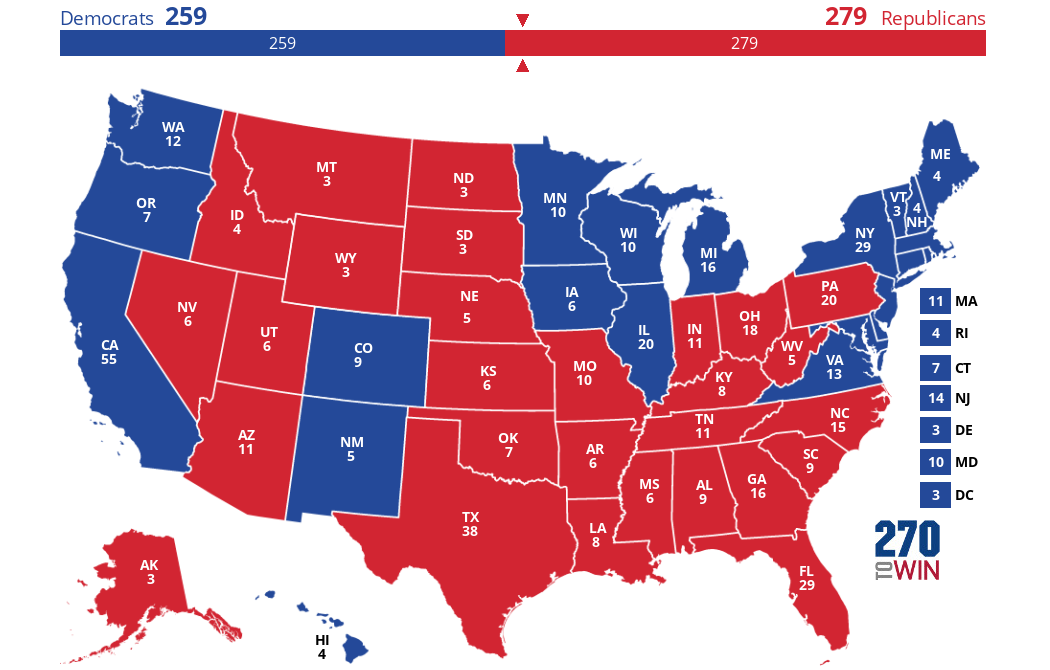 That's a lot of red, and it means President Donald Trump will be inaugurated on Jan 20
…unless, of course, the Democrats manage to rig the election.