Former FBI Director James Comey's farewell letter to his former employees has been leaked to the media — and it's proof Comey needed to be fired.
While the letter was full of emotion, it also proves he was in complete denial about the failures as a leader of the FBI.
The letter circulated among Comey's friends and colleagues, and was posted online by CNN Wednesday night. A source who had seen the note confirmed the online version was authentic.
Comey brags about the FBI in the letter, saying that "in times of turbulence, the American people should see the FBI as a rock of competence, honesty, and independence."
Sponsored: CNN Does Not Want You to See This Video
He says that "it's very hard to leave a group of people who are committed only to doing the right thing."
But he's clearly forgetting the reasoning behind his dismissal!
Comey had lost the respect of both Democrats and Republicans through his mishandling of the investigation into failed Democratic nominee Hillary Clinton.
While liberals are now slamming Trump for his decision, The Horn News pointed out the hypocrisy of major Democrats who once called for Comey's resignation.
No one, conservative or liberal, had faith in Comey's "competence, honesty, and independence" at the end.
Sponsored: Experts call THIS the "Second Bible" (shocking)
Trump tweeted about the blanket disapproval of Comey, and promised to appoint a director who will restore integrity to the FBI.
Comey lost the confidence of almost everyone in Washington, Republican and Democrat alike. When things calm down, they will be thanking me!

— Donald J. Trump (@realDonaldTrump) May 10, 2017
James Comey will be replaced by someone who will do a far better job, bringing back the spirit and prestige of the FBI.

— Donald J. Trump (@realDonaldTrump) May 10, 2017
In the letter, Comey says that he does not plan to dwell on the decision to fire him or the "way it was executed."
Sponsored: Surprising New Law Gives "Cash Rebate" to 119 Million Americans
He says that although he'll be fine, he will miss the FBI and its mission "deeply."
See it in full below: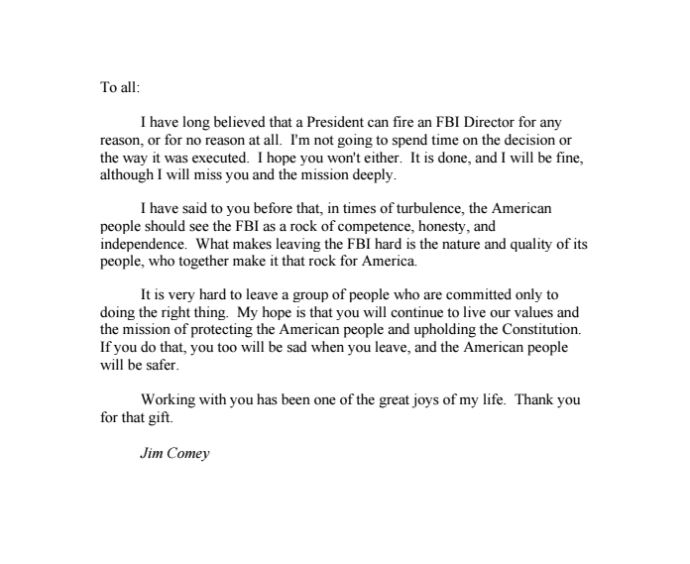 The Associated Press contributed to this article.