On Tuesday, The Horn News reported that ICE officials and the Trump administration struck a deal with Germany to deport the last Nazi war criminal remaining on American soil back to Germany — and liberals hate Trump so much, they flocked to social media to defend the Nazi.
Most Americans expressed gratitude for the president sticking to his guns and deporting the war crimes suspect — but according to liberals, deporting a Nazi war criminal is just another example of Trump's "white nationalist sympathies."
God Encoded His Final Warning Inside You [sponsored]
In a now-deleted tweet, a writer for the left-leaning site Upworthy tweeted, "These ICE agents don't realize that someone else will come for them when they turn 95."
He went on to add, "PS deporting a 95-year-old Nazi guard is a really great way to use elder abuse as plausible deniability for your xenophobic white nationalist sympathies."
Hold on, it's xenophobic white nationalism to demand justice for a Nazi camp guard who is what exactly? pic.twitter.com/L1Pxz6Gs53

— CE Pascal (@PaterIndomitus) August 21, 2018
Sponsored: Is This God's Final Warning?
The outrageous conspiracies continued — and Dunn was not alone in his suggestion that Trump was wrong for deporting a Nazi.
GQ writer Nathaniel Friedman added his own observation, claiming the incident may have been "orchestrated to make ICE look noble and heroic."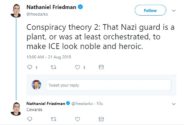 In an attempt to recover from the backlash he received after publishing that tweet, Friedman claimed it was a joke and then deleted the tweet.
3 signs the end is near… [sponsored]
To no surprise, plenty of other liberals picked up the slack for the two cowards that deleted their tweets after receiving retaliation from Trump supporters.
The Washington Post suggested that the GOP was playing up the role of ICE in the deportation in an effort to sway Americans to sympathize with their immigration enforcement policies —
Seeking political advantage, GOP plays up role of ICE in deportation of Nazi collaborator https://t.co/rlqoCJXbKp

— Washington Post (@washingtonpost) August 21, 2018
And one person claimed it was cruel of ICE to deport a Nazi just because of his "heinous crimes."
He even tried to compare illegal immigrants to a Nazi war crimes suspect.
Sponsored: The unpublished Bible secret that no documentary will touch…
So, first ICE separates 2000 Central American children from their parents. Then ICE deports one Nazi 70 years after his heinous crimes. And the RNC wants to crow about it?

— Caleb Ellinger (@CalebEllinger) August 21, 2018
These liberals are choosing to put their hatred for Trump above reality.
If former President Barack Obama had been in office when this Nazi was deported, the mainstream media would be praising him. But because Trump is in power, they are choosing to stay silent.
So, without the media to give them an opinion, liberals act outraged that Trump deports Nazis?
A win for the president is a win for all Americans — and it is time for liberals to wise up and recognize that.
–Kylie Handler is a news editor for The Horn News