From sea to shining sea, there is a concentrated effort in America to silence conservative voices across our country — and the mainstream media is totally silent on the issue.
The violent firebombing of a North Carolina Republican office Saturday should serve as a wake-up call to conservative's across the country, whether they support Republican presidential candidate Donald Trump or not.
This isn't an isolated incident. All across the country, acts of vandalism are targeting conservative supporters and organizers, and these thugs have a common message: They want conservative voices silenced.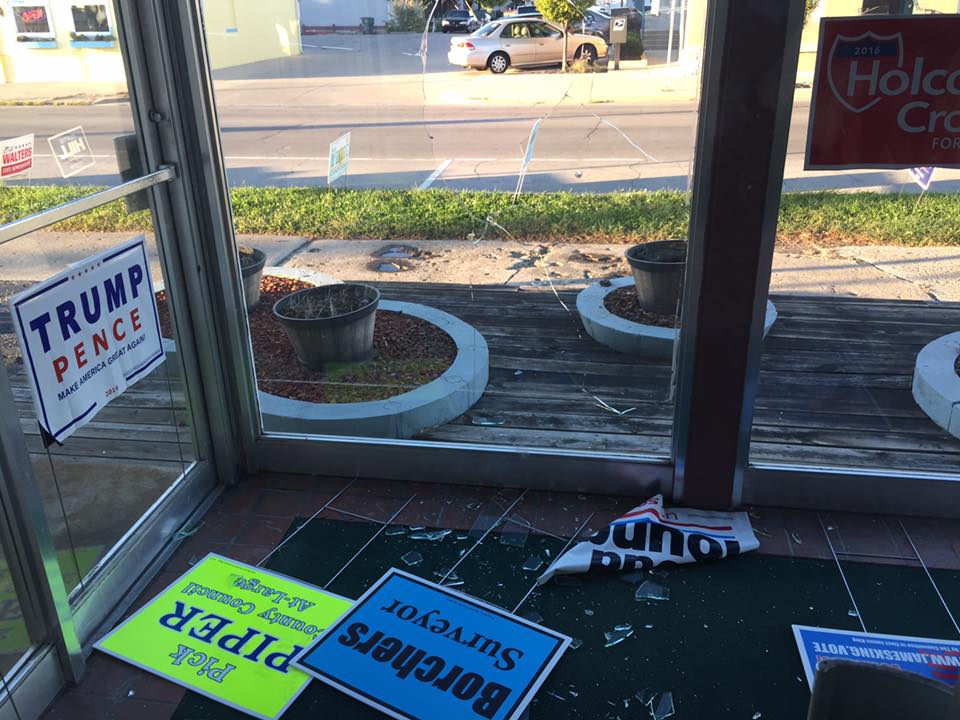 In Indiana, a brick was thrown through the Republican party's Delaware County headquarters Monday. The window contained signs supporting both Trump and Rep. Todd Young, a fellow Republican, and the attack did over a thousand dollars in damage.
In Texas, a Trump campaign office in San Antonio was targeted by a burglar, who according to local news station Fox29 was apprehended by police while trying to break in Wednesday evening. In Corpus Christi, a campaign sign for Republican office seekers was attacked by vandals, while in Bell County racist graffiti and vandalism targeted pro-conservative political signs.
In South Dakota, a Republican headquarters in Pennington County was targeted by vandals over the weekend, and in Ohio a Republican party headquarters suffered thousands of dollars in damages in what the county chairman called, ""nothing new in this town."
And in Illinois, vandals targeted a veterans home and stole his political signs — and American flag.
These acts, by themselves, are shameful. Combined, it is no longer simple vandalism.
These are politically motivated attacks against conservative voices, and they are more common than the mainstream media will report.
In a quick internet search, acts of vandalism targeting pro-Republican and Trump messages, signs, voters, and organizations have been reported in the states of Missouri, New Mexico, Kentucky, Oregon, Virginia, Minnesota, Washington D.C, Nevada, and Florida… in just the past two weeks!
Could you imagine the uproar by the mainstream media if Hillary Clinton's offices were being attacked on this scale?
It's time for conservatives to demand better from America's media.
This shadowy war against Trump voters is totally unacceptable.
And we will not be silenced.
Comment below if you know of a politically motivated attack targeting conservatives that wasn't reported. We want to hear from YOU.
— The Horn editorial team