Presumptive Democratic presidential nominee Hillary Clinton has long been obsessed with the idea of becoming America's first female president.
But the Clinton campaign's recent stop in West Virginia may prove that the White House will remain out of her reach again — and could instead fall into the hands of GOP frontrunner Donald Trump.
And that's enough to send the Clinton campaign into full-blown panic.
When President Bill Clinton rolled into the small Appalachian town of Ashland, Kentucky, in 1996, cheering crowds lined the streets. Local boy turned country music star Billy Ray Cyrus performed a special version of his hit, "Achy Breaky Heart." And nearly 20,000 supporters attended a riverfront re-election rally, dozens collapsing from heat exhaustion in the August sun.
Back then, this was unquestionably Clinton country. Today, West Virginia — and states like it — looks an awful lot more like Trump town.
Hillary Clinton was met in Ashland on Monday by just a handful of supporters and a lone heckler, who shouted: "Go home, Hillary! Nobody wants you here." Later on, hundreds of protesters stood in pouring rain, waved Donald Trump signs and chanted "Kill-ary" as Clinton toured a health center 80 miles to the south in Williamson, West Virginia.
The unwelcome reception marks a striking political shift for the Clintons, who've long staked their electoral fortunes on working class white voters. Her husband won the White House in 1992 by wooing Southern swing voters in places such as Kentucky, West Virginia and Tennessee, and Hillary Clinton swept all three states in her primary run in 2008 against then-Illinois Sen. Barack Obama.
Eight years later, Trump's connection with those voters could pose a threat to Clinton not only in the coal mining communities of Appalachia she visited on Monday, but also in parts of the Rust Belt and upper Midwest hit hard by the decline of domestic manufacturing.
As she increasingly focuses her efforts on the general election, Clinton is trying to replicate the electoral strategy that twice boosted Obama into the White House by concentrating on wooing young, minority and female voters.
However, in 2008, President Barack Obama won 41% of the white male vote nationwide. And in 2012, he won 36% — proving it an essential voting block that contributed to Obama's victory in battleground states.
"Democratic officials and pollsters say they fear that without a stronger strategy, Mrs. Clinton could perform as poorly among white men as Walter Mondale, who drew just 32 percent in 1984, or even George McGovern, who took 31 percent in 1972," according to The New York Times.
In continues, saying that while "Clinton swept the five major primaries on Tuesday, [Apr. 26] she lost white men in all of them, and by double-digit margins in Missouri, North Carolina and Ohio, exit polls showed."
That leaves Clinton more vulnerable in a general election than most realize. Dropping to 31-32% of the white male vote in states like Pennsylvania and Ohio, the electoral college math becomes very difficult for Clinton.
And it could be even worse than that 31% for Clinton, some political analysts note. In the Ohio Democratic primary, The New York Times reported that "a plurality of white men said honesty and trustworthiness were the most important qualities in a candidate, and 89 percent of them voted for [Democratic rival Bernie] Sanders."
Quick math draws a prospective electoral map —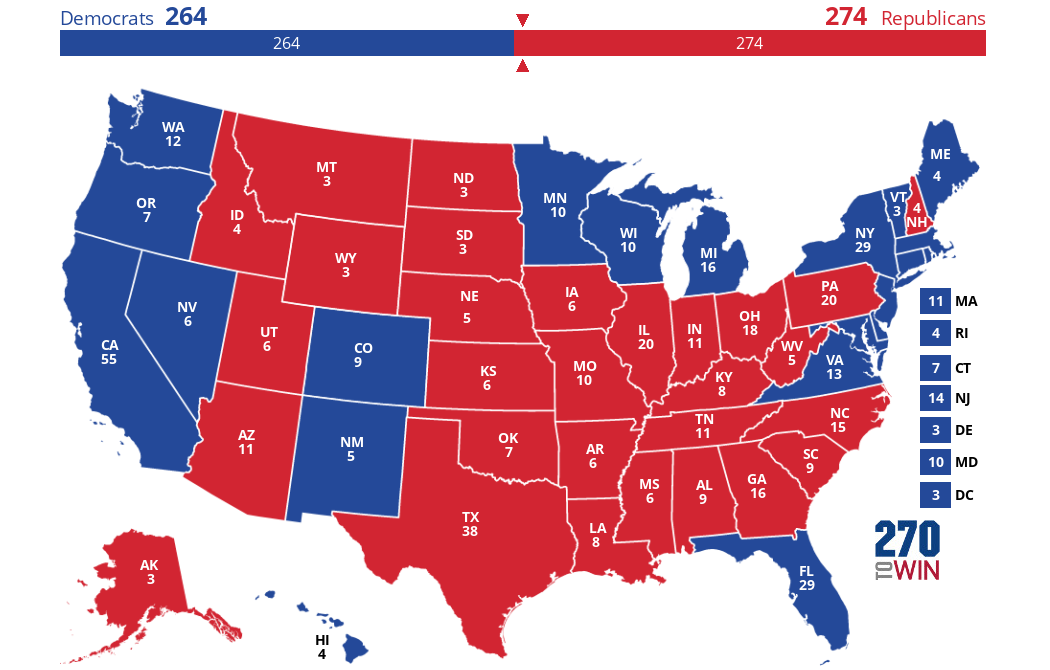 Click the map to create your own at
270toWin.com
On Sunday, Bill Clinton was booed at an event in Logan, West Virginia. Before he arrived, the town's mayor sent an email to West Virginia Sen. Joe Manchin's office, saying the couple wasn't welcome to use city fire department facilities for their political events.
"The policies that have been championed by people like Mrs. Clinton have all but devastated our fair town, and honestly, enough is enough," read the e-mail, according to WOWK-TV.
Clinton's waning popularity in the region was further hurt by a remark she made in a March interview with CNN, when she said she would "put a lot of coal miners and coal companies out of business." She was responding to a question about how her policies would benefit poor white people in Southern states.
In Williamson on Monday, Bo Copley, a laid-off coal worker, asked Clinton why voters should believe her pledges to help the region. Clinton released a $30 billion plan last fall aimed at aiding communities dependent on coal production.
"I can't take it back and I certainly can't get people who for politically reasons or personal reasons, very painful reasons, are upset with me," said Clinton, who called the comment a "misstatement." "I'm going to do whatever I can to try to help."
Outside her event, protesters weren't buying.
Dionne Collins, 42, said she voted for Bill Clinton, but had grown increasingly disgusted with both political parties.
"Hillary Clinton should be in prison," she said. "The only hope to me that this country has right now is Donald Trump."
The Associated Press contributed to this article