Republican presidential nominee Donald Trump stole the show last night, but his children also made a huge impression at the Republican National Convention this week.
Of his five children, the eldest four delivered poised, impressive speeches praising their father as a strong leader, a successful businessman, an incredible father and the perfect potential president.
We now know that Eric, Ivanka, Donald Jr., and Tiffany are successful public speakers. What else do voters need to know?
Donald Trump Jr., 37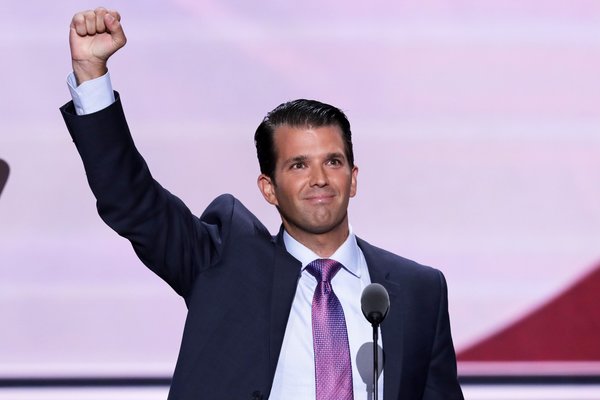 Donald's eldest son from his first marriage with ex-wife Ivana has more in common with his dad than just his name.
He attended the Wharton School at the University of Pennsylvania and now works as an executive vice president for his father's company. He is married to fashion model Vanessa Haydon, with whom he has five children.
He brought the Republican convention to their feet Tuesday night, while delivering a powerful speech full of policy proposals that had some speculating a potential future in politics for Donald Jr.
Ivanka Trump, 34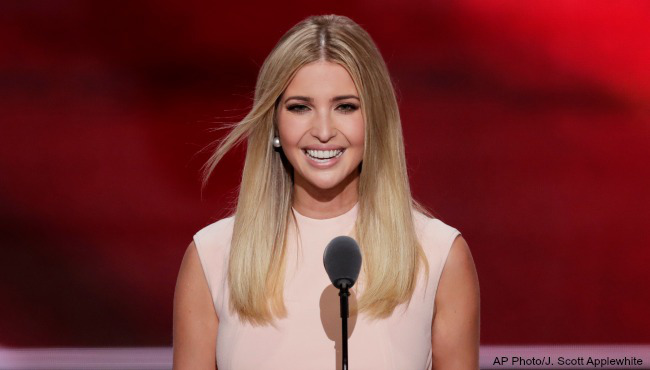 Trump and Ivana's second child Ivanka definitely inherited Donald Trump's knack for business ventures. She serves as an executive vice president of acquisitions and development for her father's company, but also has her own Ivanka Trump brand which sells jewelry, fashion, and lifestyle items.
Even Chelsea Clinton had kind words to say about Ivanka, telling Vogue, "She's always aware of everyone around her and ensuring that everyone is enjoying the moment. There's nothing skin-deep about Ivanka."
Ivanka married real-estate developer and newspaper publisher Jared Kushner in 2009, and they have two children together. Kushner has been a familiar face on the campaign trail since the ousting of campaign manager Corey Lewandowski. He has lent a hand to the campaign in making important hires, editing Trump's speeches, and providing is respected opinion whenever it is needed.
She delivered a powerful speech at the convention Thursday night, promising that her father will fight for equal pay for women and affordable childcare for parents.
Eric Trump, 31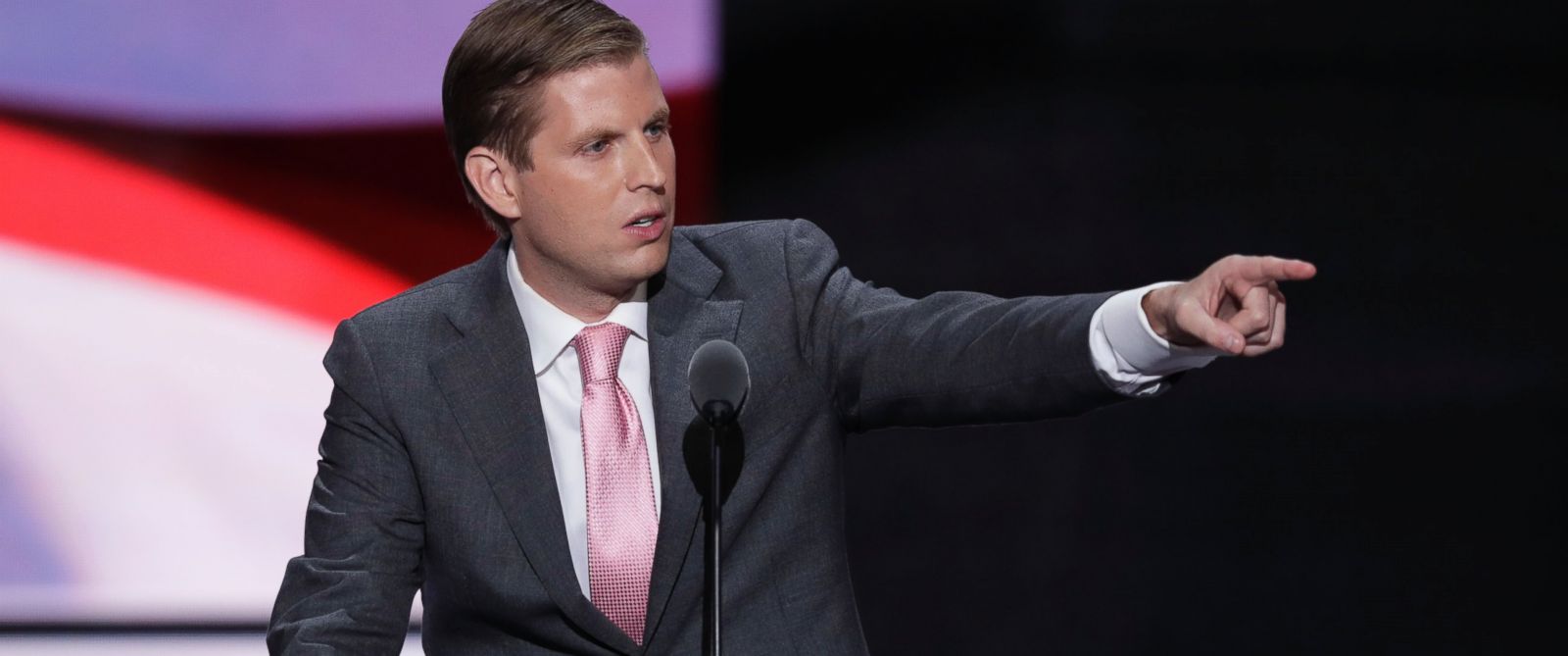 Serving as an executive vice president for Trump's management company and the owner of Trump winery, Eric has also followed in his father's footsteps. He is also a successful philanthropist, founding the Eric Trump Foundation which has donated $28 million to St. Jude Children's Research Hospital.
Eric is a proud member of the National Rifle Association, and enjoys hunting big game with his older brother Donald. The two have caused stir in the past, posting photos with elephant tails and dead cheetahs.
He was married in November of 2014 to Inside Edition associate producer Lara Yunaska Trump in Palm Beach, FL.
Eric spoke at the convention Wednesday night, following Ted Cruz's controversial non-endorsement. He told voters how important it was that they elect his father and explained all of the reasons that he is running.
Tiffany Trump, 22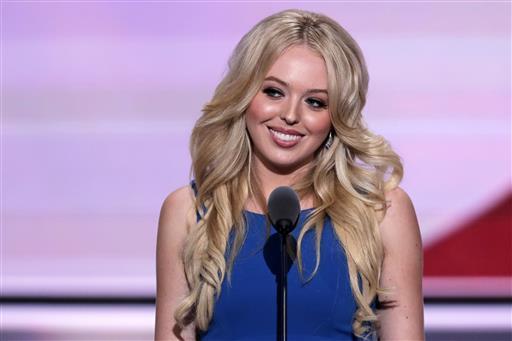 Tiffany is the daughter of Trump's second wife and actress Marla Maples. She grew up in Los Angeles with her mother and has remained out of her father's spotlight– until now. Tiffany told People Magazine that her mother, "moved us out of New York to get out of the spotlight and let me grow up and find my own identity versus being in the shadow of a name or growing up with all that pressure."
But the distance didn't stop her from maintaining a relationship with her father. She told ABC's 20/20 in November 2015, "I'm so happy to be Tiffany Trump, happy to be in the family I'm in." She described her father saying, "He's true to himself, and he speaks in a way that the average person can understand. I think that's refreshing for everyone."
She graduated from University of Pennsylvania this year, with a double major in sociology and urban studies. She had an internship at Vogue and says she has a passion in fashion and technology.
She spoke eloquently on her father's behalf at the convention Tuesday night, focusing on childhood memories and how he's always there for her, especially in difficult times.
Barron Trump, 10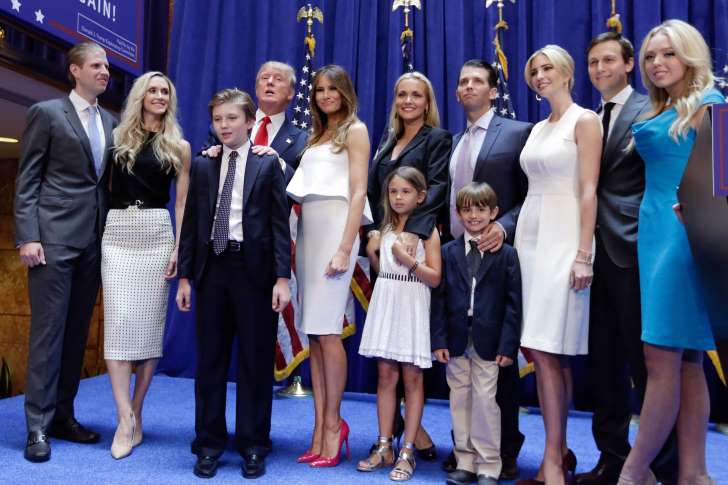 With a high profile family like the Trumps', it would be expected that they would have hired help, but not for Barron. Melania Trump is a full-time mom and doesn't hire a nanny to help with her only son.
Barron loves bonding with his father over games of golf, and also plays basketball, baseball and tennis. The older Trump brothers might have a run for their money as Barron grows up. Melania described Barron as "not a sweatpants child," and said that he enjoys wearing a suit. He is reportedly called "Little Donald" at home and wants to be just like dad.
The youngest of Trump's children and only child with wife Melania has largely remained out of the spotlight because of his young age.
— The Horn editorial team