A dead yellow-bellied sea snake from southern Mexico has been discovered on Bolsa Chica beach, only the third one ever reported in California.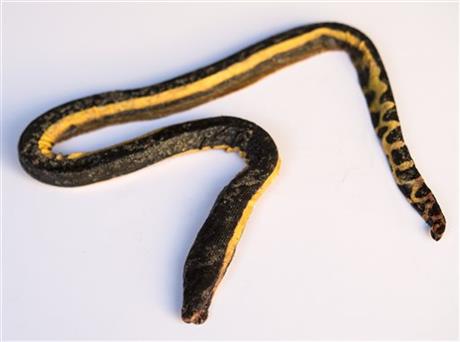 Natural History Museum snake curator Greg Pauly says it's only the seventh or eighth one ever seen north of Baja California's Magdalena Bay.
All the California sightings have come during El Nino years when oceans are warmer than usual. The last one washed ashore at Silver Strand Beach in Oxnard in October. One other was found in 1972 at San Clemente State Beach.
The Bolsa Chica find happened over the weekend during a cleanup effort.
Pauly tells the Orange County Register that one sea snake in a year is incredible, but two is mind-blowing.
The snakes are venomous but not dangerous to humans because they can't open their jaws very wide.
The Associated Press contributed to this article.