by Stephen Dietrich
The next president of the United States of America will likely be either Donald Trump, Hillary Clinton… or Evan McMullin.
If you found yourself asking, "Who?", you probably don't live in Utah.
McMullin is a third-party candidate running for president, the Messiah for "Dump Trump" conservative hell bent on sabotaging the Republican Party candidate's run for the White House.
And according to recent polling data, this upstart is succeeding.
Trump has been surging in national polls recently, and has pulled within a virtual tie of Clinton. But Utah's Electoral College votes are vitally important for Trump to have a realistic path to the White House — and McMullin, a Utah native with large support within the Mormon church, is threatening to take them away from Trump on Nov. 8.
Without those six electoral votes, it becomes very difficult for Trump to win the general election.
And should Utah elect McMullin, there's a very real chance of an Electoral College tie, as the map below illustrates.
It's a scenario which would give "Dump Trump" Republicans a shot to pull off a wild, 'Hail Mary' political upset of historic proportions.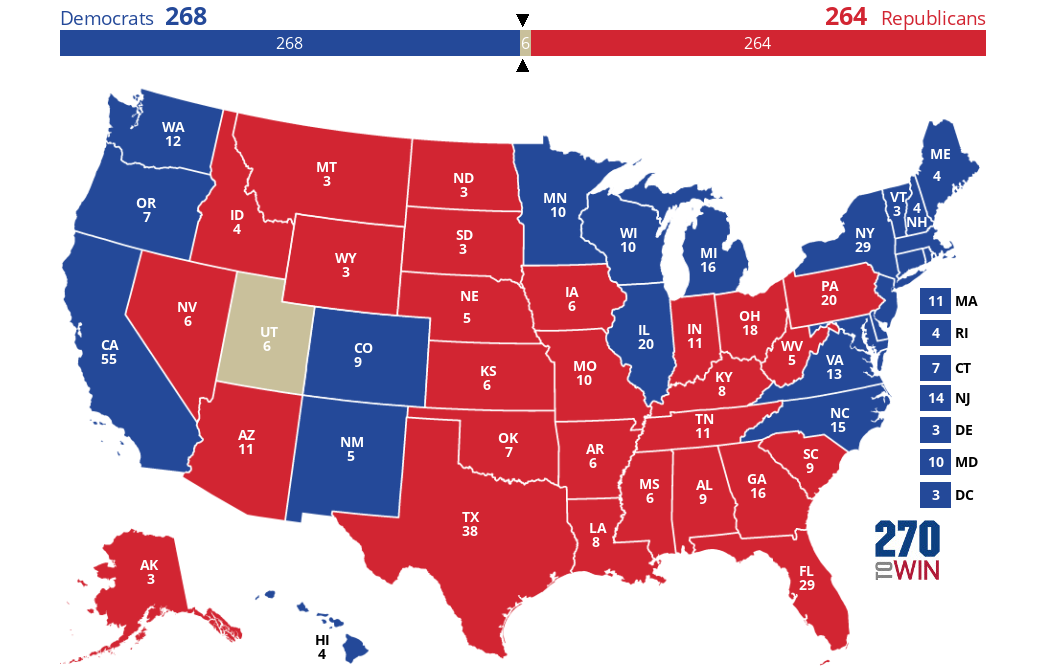 Click the map to create your own at
270toWin.com
It's an outrageous thought that will leave Trump supporters furious. But, in the case of an electoral college tie, there IS a chance – an outside chance, but a real one – that McMullin could use political gridlock to become the next president of the United States.
Yes, really.
---
Sponsored: Was The 2016 Election Winner Decided All The Way Back In 1993?
It sounds like a movie plot — but IT'S TRUE.
A Hillary Clinton whistleblower just released this confession, and exposed the biggest skeleton in her closet. (Warning: It's downright disturbing.)
Watch it now — before she sinks her claws in the video and erases it from the web.
---
Here's how:
According the 12th Amendment, the name of the three highest ranking electoral college presidential candidates are sent to the incoming House of Representatives, which would vote to decide the president. The Senate picks between the two highest vote-getting vice presidential candidates, Democrat Tim Kaine and Republican Mike Pence.
The House – which will more than likely remain in Republican control – would presumably choose their party candidate… unless that party candidate is exceedingly unpopular with the establishment insiders, like Trump.
Because the House vote must be decided by a pure majority, it's possible that a few establishment "Never Trump" Republicans would join Utah's representatives and side with McMullin over Trump.
If they did, it would leave Trump without a pure majority, the House would be caught in a stalemate.
Meanwhile, the Senate would have a simpler two choices – and should it be in Democrat control, would likely choose Tim Kaine as the vice president.
If the House is unable to come to a conclusion by inauguration day, the vice president picked by the Senate is automatically made the president of the United States.
Would Republicans like House Speaker Paul Ryan allow that? Or would they seek compromise with "Never Trump" Republicans and choose a conservative outsider over Trump?
According to statistics, there's a 1-3% chance of this very scenario unfolding on Election Day.
If the establishment had a conservative compromise candidate like McMullin they could use to prevent the Democrats from stacking the Supreme Court, it's possible they go for it.
Unlikely?
Yes.
But like a Hail Mary pass with time expiring, it's possible.
— Stephen Dietrich is the Managing Editor of The Horn News